An Award Winning Filmmaker Decided to Write a Book. Here is What She Learned and Her Outside-the-Box Way of Getting a Great Deal to Write the Screenplay
by Carole Dean
Many filmmakers tell me they want to write a book to go with their film. And they want to know if the book should be published first. I decided the right person to ask is Alexis Krasilovsky.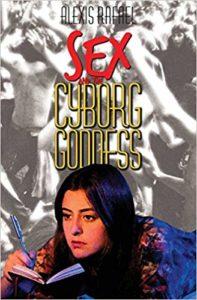 Alexis won the Roy Dean Film Grant for her global documentary feature: Women Behind the Camera, which won four "Best Documentary" awards. She also directed a second global documentary, "Let Them Eat Cake" (2014), She is a member of the Writers Guild of America West.
Written under her "nom de plume" Alexis Rafael, her most recent book is "Sex and the Cyborg Goddess". Set in 1969, it tells the story of Ana who arrives at Yale just as it's going co-ed. It tackles sexual liberation and sexual assault on campus, as well as sexual harassment in the film industry.
I interviewed her on The Art of Film Funding Podcast about filmmakers writing books. How important is it for your film? Here are some tips from this podcast.
What Advice Do You Have for Going from Filmmaker to Author?
"It's often a good idea to write a book first," suggested Alexis. "It not only helps you to solidify your ideas, but by getting a book published first, your readership becomes your potential audience for the movie."
"If it's a women's topic, that can be especially significant. Women comprise 75% of the readership of novels. Even though the film industry is still very male-dominated in terms of who decides what gets produced and what doesn't, they are finally recognizing that it can be very good business to produce a film based on a book written by and for women."
Did You Base "Sex and the Cyborg Goddess" on Your Own Experiences?
"Sex and the Cyborg Goddess" is a work of fiction, set against the backdrop of the sexual liberation era, anti-Vietnam protests and Black Panther demonstrations. It's a portrait of a filmmaker, Ana, as a young woman who won't let sexual harassment stop her."
But I am not Ana. Unlike the Ana of this novel, I did let sexual harassment stop me. I retreated into academia instead of going to bed with the last producer I worked for in Hollywood. The books which I wrote while a professor became a kind of R&D – research and development – for creating the character of Ana as she moves forward through the 1970s and 1980s in L.A. and N.Y."
But some of what Ana experiences did come from my own life. Like Ana, the Yale student, I protested against the war in Vietnam in Washington, although the real me didn't drop acid."
What Do You Want People to Take Away From the Book?
"I want readers to find affirmation in their right to pursue consensual sex, as well as their right to live without sexual violence.
For those readers who are part of the "#MeToo" movement, I want my book to provide healing by furthering the discussion about Ana, a relatively isolated character, and young women today, who belong to a Sisterhood."
What is the Unique Strategy You Are Using to Get a Deal to Write the Screenplay?
"Before embarking on the screenplay, I took time off – including a research fellowship and a sabbatical – to write a nonfiction book entitled "Great Adaptations: Screenwriting and Global Storytelling." It was published by Routledge in NY and London last fall."
As a member of the Writers Guild, I thought that by establishing myself as an international expert in screenplay adaptation, I'd get a better deal on the screenplay for "Sex and the Cyborg Goddess." I've been speaking about adaptation at CBS Studios and on panels around the L.A. area. In January, I'll be giving a screenplay adaptation workshop at the International Academy of Film and Media in Bangladesh."
I hope that strategy pays off. After teaching screenplay adaptation as a screenwriting professor for over two decades, you can imagine what a thrill it is to sit down at the computer, open up Final Draft, and finally, finally, go to work on my own screenplay."
I just sit there and laugh and laugh – not all of "Sex and the Cyborg Goddess" is tragic."
Carole Dean is president and founder of From the Heart Productions; a 501(c)3 non-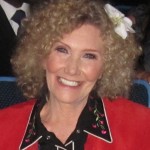 profit that offers fiscal sponsorship for independent filmmakers. She hosts the weekly podcast, The Art of Film Funding, interviewing those involved in all aspects of indie film production. She is also the author of The Art of Film Funding, 2nd Edition: Alternative Financing Concepts. See IMDB for producing credits.