Documentary Roundtable:
Capturing Life Unconventionally
with
Kirsten Johnson, Allison Otto, and Elizabeth Lo
presented by From the Heart Productions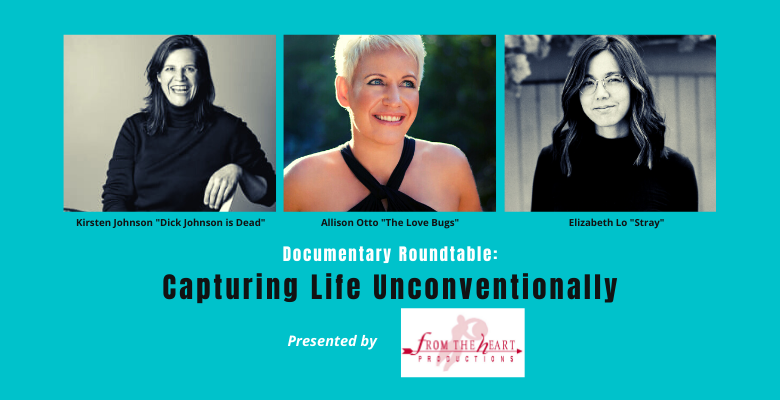 Q+A with the filmmakers behind "Dick Johnson is Dead," "Stray," and "The Love Bugs"
Three of the most delightfully quirky, unconventional documentaries in 2021 awards consideration
Moderated by From the Heart's Carole Dean
Kirsten Johnson – "Dick Johnson is Dead" – enlisted her father to stage his death in inventive and comical ways to help them both face his battle with Alzheimer's.
Allison Otto – "The Love Bugs" – used the world's largest insect collection to craft a poignant story about the nature of love between two aging entomologists.
Elizabeth Lo – "Stray" – filmed a dog's eye view of the world to share a story that was both a love letter to dogs and a multifaceted examination of life on the fringe of humanity.
Each film used a very artful, outside-of-the-box approach to share an extremely profound story.
Learn how these three filmmakers see the world unconventionally and incorporate it in their storytelling to craft three of the most engaging and deeply moving films of the year.
Click here to sign up to get notified of future events and interviews. Also get info on film grant news, film funding classes, and tips on film funding.
About the Filmmakers and Their Films
KIRSTEN JOHNSON, "Dick Johnson is Dead"
Kirsten Johnson is a veteran of numerous award-winning documentaries, both as a director and as a cinematographer. She was the DP on the Oscar-winning documentary, Citizen Four, the Academy Award-nominated documentary The Invisible War, the Tribeca Documentary winner Pray The Devil Back To Hell, and Cannes winner Fahrenheit 9/11. In 2016 her film, Cameraperson, was short-listed for an Academy Award and won three 2017 Cinema Eye Honors. Her most recent film, Dick Johnson is Dead, was a Cinema Eye award-winner, a Critics' Choice winner, received a Special Jury award for US Documentary at the 2020 Sundance film festival, and is in 2021 Oscar contention.
"At once a celebration and a lament, simultaneously jubilant and ineffably sad, it's a film worth sticking around to see" Guy Lodge, Variety
ALLISON OTTO, "The Love Bugs"
Allison Otto is an Emmy-nominated, award-winning documentary filmmaker, cinematographer and visual journalist. Her documentary short, The Love Bugs (2019) won 14 film festival awards, screened on POV Shorts Season 3 (2020), and was submitted by POV for 2021 Oscar consideration. The film was also shortlisted for a 2019 International Documentary Association Award and is touring globally with the American Film Showcase. Allison is a 2019 recipient of the SFFILM Catapult Film Fellowship, a 2018 Roy W. Dean grant winner, and a two-time recipient of the Telluride Mountainfilm Commitment Grant. Her video journalism clients have included National Geographic, BBC America, NBC, the Sierra Club, Travel Channel, Atlas Obscura, and Lonely Planet.
"A deeply moving portrayal about the love of nature and the nature of love." NPR affiliate, WYPR Baltimore
Elizabeth Lo is an award-winning filmmaker whose work has been showcased around the world, including at the Sundance Film Festival, Tribeca Film Festival, BFI London Film Festival, IDFA, Hot Docs, True/False, New York Times Op-Docs, Field of Vision, and acclaimed PBS series POV. Elizabeth was featured in DOC NYC's 40 Under 40 List, Filmmaker Magazine's 25 New Faces of Independent Film, and the Saatchi & Saatchi New Directors' Showcase at Cannes Lion. Her debut feature documentary, STRAY, has won numerous awards at festivals around the world in 2020, is in 2021 Oscar contention, and will be theatrically released by Magnolia Pictures in March 2021.
"Elizabeth Lo's sharp-eyed study of Istanbul strays is both the ultimate love letter to dogs and a multifaceted moral inquiry into humanity." Variety magazine
About From the Heart Productions