Welcome to Our Store!
We offer an Online Course, eBooks, and an Audiobook
to teach you everything you need to know to fund your film!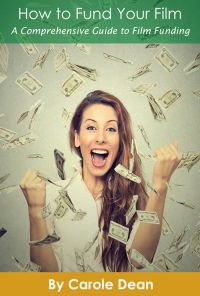 How to Fund Your Film
NEW Online Course
Includes Free Companion eBook
Are you an independent filmmaker frustrated from struggling to raise funds for your project?
Would you like the invaluable lessons and proven film funding strategy taught by an expert who has helped filmmakers raise millions for their films?
Then, the "How to Fund Your Film" class from Carole Dean is for you!
It is a fun, easy-to-follow, in-depth power-point class that gives you the tools and knowledge you need to fund your film.
How to Fund Your Film contains almost 3 hours of content.   By the end of this class, you will be:
INSPIRED, MOTIVATED, and CONFIDENT  that you are on track to finally getting your film funded!
The Class Includes:
Secrets for creating successful crowdfunding campaigns
Hosting successful fundraising ZOOM and house parties
How to find and close high net worth investors and donors
Making one-on-one asks that work
How to manage and find the time you need to fund raise
Creating successful pitches for donors and investors
How to build your audience, and get them to fund and purchase your film

How to win grants

and Much More! 

"In this tight, concise class, Carole lays out the EXACT steps
you need to take to get your film funded.  This is a 'must-have'
resource for filmmakers, whether you're new to the business or a
seasoned veteran, this is something you're gonna want." – Tom Malloy,
Actor/Writer/Producer (Lansky, Love N' Dancing)
How to Fund Your Film contains almost 3 hours of content.   By the end of this class, you will be:
INSPIRED, MOTIVATED, and CONFIDENT  that you are on track to finally getting your film funded!
The class contains the wisdom that Carole Dean has accumulated over nearly 3 decades as president of From the Heart Productions.  Wisdom that she has used  to help filmmakers raise over $30,000,000 for their films.
It also includes new methods, technologies, and philosophy needed to successfully raise funds in 2021.
This is one of the most comprehensive and complete guides to film funding available today!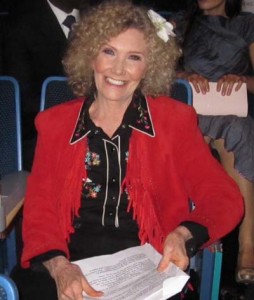 Carole Dean is the author of the best selling "The Art of Film Funding, 2nd Edition: Alternative Financing Concepts" and winner of the 2012 WIFTS (The Women's International Film & Television Showcase) Lifetime Achievement Award.  She created the short-end film business in 1970 which helped spawn the independent film revolution by giving filmmakers affordable film stock.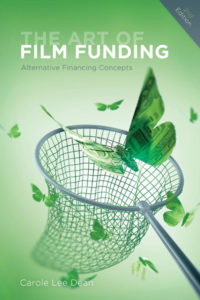 She founded the non-profit From the Heart Productions as she saw in her business too many talented filmmakers fail at getting their films funded.  Since 1993, she has helped thousands of filmmakers get funding for their films through a fiscal sponsorship program she created, her film funding classes, mentorship, and film crowdfunding which she pioneered.
She created the Roy W. Dean film grants in 1992 in honor of her father. The grant has given over two million dollars in donations to date.  It has helped many excellent films that, without the grant, may have never been made.  Learn More about Carole Dean.
How to Fund Your Film takes you step-by-step through everything you need to know to successfully fund your film.
From crafting your proposal and budget to pitching investors, winning grants, and running a crowdfunding campaign, Carole teaches you the industry professional secrets you need to get the funding you need.
Take a look at what's included!
Class Outline
 Part 1: In The Beginning♦ Introduction
♦ The Importance of Creativity
♦ The Power of Believing in Yourself
Part 2: The Basics
♦ Where to Find the Money
♦ How to Find the Time to Get It
♦ The Importance of Passion for Your Project
Part 3: The Killer Script and Proposal

♦ Writing and Rewriting
♦ Crafting the Proposal
♦ Marketing and Outreach
Part 4: Creating the Believable Budget
♦ Getting Accurate Quotes
♦ Creating Your Budget
♦ Defending Your Budget
Part 5: The Perfect Pitch

♦ Components of a "Sticky Story"
♦ Most Common Mistakes for Pitching
♦ The Importance of Silence
Part 6: The Power of the Pitch

♦ Physical Actions and Appearance
♦ How You Sound
♦ The Words You Use
Part 7: Show Me the Money!

♦ Networking for High Net-Worth Individuals
♦ Where to Find Them
♦ Public Relations and Vested Interest People
Part 8: Using the Tax Law to Close Investors

♦ Understanding the New Tax Law
♦ Taking Advantage of the New Law
♦ Benefits for International Co-Productions
Part 9: Fundraising House Parties

♦ Zoom or Remote Fundraising Parties
♦ Keys to the Fundraising House Party
♦ Successful Party Tips
Part 10: Winning Grants

♦ Finding the Right Grant
♦ Keys to the Successful Grant Application
♦ Grant Search Tips

Part 11: Trailers for Grants and Film Funding

♦ Trailer Editing is Unique
♦ The Importance of a Trailer for Film Funding
♦ Music is the Lifeblood of the Trailer
Part 12: Understanding Fiscal Sponsorship
♦ Understanding "Tax-Deductible" Status
♦ Shopping for a Non-Profit
♦ Benefits of Fiscal Sponsorship
Part 13: Crowdfunding – Part 1

♦ Myths About Crowdfunding
♦ Building and Engaging Your Audience
♦ Strategic Partners
Part 14: Crowdfunding – Part 2

♦ Expanding Your Database
♦ Leveraging Social Media and Building Your Community
♦ The Keys to Audience Engagement
Testimonials
See what others are saying about Carole Dean and How to Fund Your Film:
"How To Fund Your Film by Carole Lee Dean is one of the greatest educational films I have watched on film-funding. The film starts with a crash-course into manifesting and positive thinking, which is vital in a world full of procrastinators. The course is detailed and well-structured and as a newbie film producer, I've spent most of the film pausing it and taking notes. I recommend it to all directors and producers who are at the start of their careers and perceive funding as a scary path."  Yasmine Alice, Filmmaker
"Carole Dean's "How to Fund Your Film" is a wealth of information for filmmakers. Her guide is well organized, comprehensive, and encouraging. She shares invaluable insights, demystifies the fundraising process, and even recommends professionals to work with. So many artists struggle with fundraising and their projects never get made because they fall short in this arena. I would encourage them to watch Carole's video and reach out to her- she is as caring as she is knowledgeable!" Shelby Hiltunen, Naptown Media
"You can tell from the very beginning that Carole Dean loves to teach film funding!  Class is excellent. She is extremely knowledgeable and gives clear information on finding money for your film.  By the end of the class, filmmakers will be entertained and have an action plan to get their films funded" – Richard Kaufman, Senior Account Executive, Filmtools 
My experience working with Carole Dean and From The Heart Productions, has greatly exceeded my expectations.  In seeking film financing education, I found a true mentor.  Since following her guidance through her workshops, podcasts, and books, I've been moved to new paradigm shifts. Opportunities present themselves out of nowhere and it seems as though higher forces are doing the "heavy lifting".   Her heart-felt energy is contagious. She provides the resources to bring forth the true essence of every creative project. Because of Carole and her staff, I now work with a new ease and freedom that produces profound and effective outcomes in all my endeavors. – Audra Kelly, Cowboy's Sweetheart Films
On "The Art of Film Funding, 2nd Edition: Alternative Concepts in Financing"
"Dean has years of experience both as a producer and a funder and her new second edition is full of nuts-and-bolts information from both sides of the fence, told in a conversational and heart-felt manner. A great new addition to the filmmaker's lexicon." – Morrie Warshawski, consultant and author of "Shaking the Money Tree"
"Packed full of information, juxtaposed with kind words and wisdom from a woman who has spent her life nurturing filmmakers." –Barbara Trent, Academy Award-Winner, "The Panama Deception"
"I attended a seminar with you in Amsterdam. Which made me go on and buy your book and read it intensively. After which I went on and produced a feature documentary, with many of your funding ideas in mind, and managed to get the film fully funded. Released at TIFF, had a theatrical release in the US, UK and Israel, it won many awards including an Emmy, and is now available on Netflix.  Thank you so very much for all of your inspiration." – Geoffrey Arbourne, Producer, Inside Out Films
No Risk – 60 Day Money Back Guarantee

"I have worked hard to ensure that this course will include the most important and relevant information and tools you need to successfully fund your film. I believe you will feel like you are getting an excellent value for the quality of the content, but if you are dissatisfied for any reason, please email me at CaroleLeeDean@gmail.com within 60 days of purchase and I'll be happy to issue a refund." Carole Dean "How to Fund Your Film"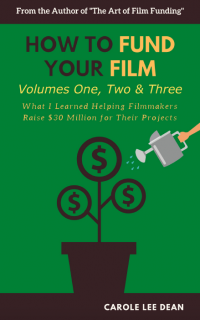 How to Fund Your Film eBook
Vol. 1, 2 and 3
Written by Carole Lee Dean, author of "The Art of Film Funding", in this book she details the lessons she learned helping filmmakers raise over $30 million for their films as head of her own non-profit From the Heart Productions.
Create an action plan to build your foundation for funding your film.
This course offers entertaining and simple step-by-step instructions on how and where to find money. There is personal information on creating successful crowdfunding campaigns, hosting online funding parties, making one-on-one asks, perfecting your pitch to investors, finding your audience, and how to win grants.
By the end of this course, you will be inspired, motivated, and confident the film of your dreams will become a reality.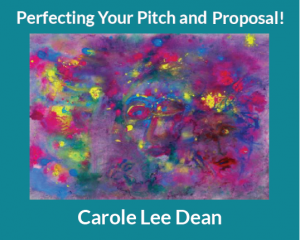 Perfecting Your Pitch and Proposal! (eBook)
Proven Approaches for Designing and Delivering Successful Pitches and Proposals that Win Investors and Donors!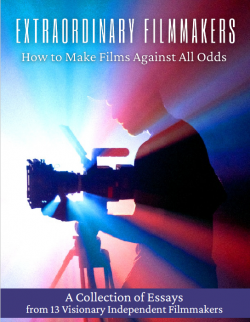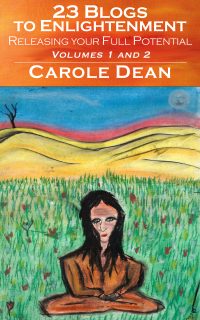 23 Blogs to Enlightenment
Vol. 1 and 2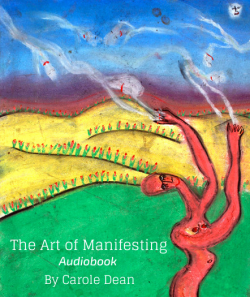 The Art of Manifesting (Audiobook)
This audiobook tells you how to:
Create clearly defined goals
Set time limits for achievement
Make your action list
Understand the law of manifestation
Develop the ability to attract your needs
Become aware of future negative planning.
From this audiobook you will:
Become Open to Receive
Trust Your Inner Voice
Use Emotions to Manifest
Create the Future You Want