The Art of Film Funding Podcast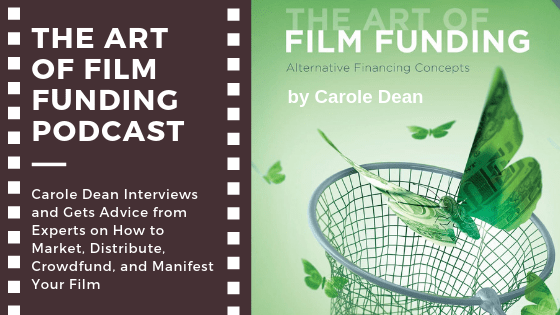 How to Party With a Purpose and Raise Money for Your Cause, Second Edition
Carole Dean hosts The Art of Film Funding Podcast with interviews with experts on film funding, film finance, film marketing, and film distribution offering advice indie filmmakers.
President and Founder of From the Heart Productions, Carole is also author of the book The Art of Film Funding, 2nd edition: Alternative Financing Concepts and recipient of the Lifetime Achievement Award from Women in Film and Television for her work supporting filmmakers.
Podcast is guest hosted by Heather Lenz, Roy W. Dean Grant recipient for the award-winning documentary Kusama-Infinity
Tune in Wednesdays at 10am PST for new episodes! 
Podcast is available on iTunes – Stitcher – Goodpods – Blogtalkradio


Named one of the Best Film Finance Podcasts of 2023
Feedspot
Named one of the 20 Best Podcasts on Filmmaking / Filmmaker of 2023
Front Row Insurance
One of the 20 Best Funding Podcasts of 2021
Welp Magazine
Help Us To Continue to Deliver Film Funding and Indie Filmmaking Info To You
The Art of Film Funding Podcast is supported by the generous donations of our listeners and supporters.  It takes a lot of work and time to produce a quality podcast on filmmaking each week.  We don't sell ads and rely on donations to continue to create our show for you each week.
From the Heart Productions is a 501(c)3 non-profit.  All donations are tax deductible.  You can make a monthly or a one-time donation.
Latest Episodes
Featured Episodes
How to Crowd Fund Your Film: Rewards, Video, Marketing & More
Join strategist/author Stephen Follows for current statistical trends.
Filmmaker Hart Perry discusses shooting the Oscar winning "Harlan County USA"
Filmmaker Heather Lenz interviews Director, Producer, and DP Hart Perry about his career, including shooting the Oscar winning documentary "Harlan County USA."
Gary Hankins & Carole Dean on the Perfect Pitch and How to Create It
Gary Hankins, author of The Power of the Pitch shares an outline of how to pitch your film.

Fair Use for Filmmakers with Jack Lerner Esq.
Fair Use strategies and tips for filmmakers.