How our Fiscally Sponsored Filmmaker Got Help from a Kickstarter Expert for Her Crowdfunding Campaign and Hit Her Fundraising Goal
by Carole Dean
Our fiscally sponsored filmmaker, diane estelle Vicari, feared her fundraising campaign was set to fail. diane (both her first and middle names begin with lower case letters) is the founder of Dites-Moi and winner of the Pare Lorentz Grant for her film Sugihara, Conspiracy of Kindness.
Her new film, Shadow Man: The Story of Sammy Nestico, needed to raise money to finish her edit. It had a great story. It is a feature-length documentary film that explores the music, art, humanity, impact, and life of Sammy Nestico. He helped mold the careers of many jazz greats. Sammy recently turned 94 years young. His most recent Grammy nomination came only a year ago, at the age of 93!
But, she only had 3,000 names on Facebook. You should only expect to get about 1% of your social media followers to donate. So, obviously, that was not going to get her to her goal. And, with Kickstarter, if you don't reach your goal, you get zero.
Her non-profit fiscal sponsor From the Heart Productions came to her rescue. We hooked her up with our Kickstarter expert. Working with him as a team, she grew her social media followers, reached a larger audience, and surpassed her funding goal. She asked for $61,500 and got over $75,000!
On The Art of Film Funding Podcast, she shared with me her experience and what she had learned.
Realizing You Need Help and Accepting It
diane had 3,000 names on Facebook and knew she needed help to reach her funding goal. She took the leap of faith to do a crowdfunding campaign with From the Heart Productions and our Kickstarter specialist.
After speaking with the expert, diane realized he was right for the task as "he knew money and how to get it." To make this campaign work, she realized she was the artist and he was the money man.
She began to feed him stories every day about the film and introduced him to the subject in the film. He met Sammy and saw his loving, generous energy. After that, the Kickstarter expert was able to help diane build the Facebook numbers up to 6,000 followers by the end of the campaign.
Facebook to the Rescue
Once she got Sammy on Facebook with the heightened energy from the campaign it was a magical time. Sammy had never heard of Facebook. diane had to drive hours to his home and do the postings for him.
Getting him involved on social media attracted lots of followers. Sammy talked to people all over the world who love music and even some who had read his music books written for schools.
This participation was the key to their last days where they raised over $10,000.00. People are more likely to support you when they can chat with you online.
diane posted a video of Sammy watching his trailer on Kickstarter and seeing the funds come in on the campaign. People loved it. She thinks he was the oldest person on Kickstarter.
Choosing the Right Amount for the Goal…Even If It's Less Than You Need
diane knew from her Kickstarter adviser that she could not raise the full amount she needed for her final edit with her data base. They set a goal they thought they could reach. She did not get enough for the full edit.
She thought she could get at least a few months of editing with these Kickstarter funds. But after consulting with D-Word's Doug Block, she realized that was not a good idea. Hiring someone for 2 months and then terminating them to look for more money might mean you could not get that same editor again.
He suggested she view all of the footage for the last 16 years and hire an assistant editor. Then, raise the balance needed, hire the editor, and do the edit all at once.
However, now she has a successful campaign behind her. She has lots of new donors and followers on which to build her next campaign. Her trailer was the most watched on Kickstarter and a copy of it is on our crowdfunding page.
Sammy was the oldest person on Kickstarter and people loved him. There were featured by Kickstarter. diane had 511 rewards to fulfill and she had to handle all that herself.
After 44 days of working 10 hours a Day on Her Campaign, I Asked Her "Would You Do This Again…Is It Worth the Stress?"
Looking back over the ups and downs of the campaign, diane says "Yes, I will do this again, even with the craziness and the stress."
"Look at the benefits we received. We found and connected to our audience with Kickstarter. We now have people all over the world who want to see this film made. They stayed with us to the very end to see we hit both of our goals. People are still finding us even weeks after the campaign and they want to donate."
She and Sammy are dedicated to keeping their audience. They are continuing to work on Facebook. They are keeping their fans up-to-date on the progress of the film and Sammy is personally talking directly to his audience.
This experience took him into a new world. He is writing again. He has found how much people love and appreciate him.
I believe this magic of connecting with people personally will insure another successful campaign.
Carole Dean is president and founder of From the Heart Productions; a 501(c)3 non-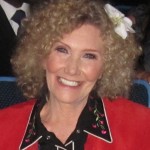 profit that offers fiscal sponsorship for independent filmmakers. She hosts the weekly podcast, The Art of Film Funding, interviewing those involved in all aspects of indie film production. She is also the author of The Art of Film Funding, 2nd Edition: Alternative Financing Concepts. See IMDB for producing credits.