"They call creative people 'daydreamers' because we are much more creative when we relax."
by Carole Dean
About three years ago, I found Reiki master Sevina Altanova and have been receiving highly beneficial Reiki treatments weekly. Her relaxation techniques have made a huge difference in my work. Since I've been getting treatments, I've stepped up writing more blogs for filmmakers, I'm creating a new online film funding course, and designing a new eBook for filmmakers who join our mailing list.
She recently founded her own company, Stress Management Resources. "People who are constantly engaging their minds may not realize that this hampers their creative impulses. For filmmakers, it is very important for you to relax in order to boost your creativity."
As a guest on my The Art of Film Funding Podcast, Sevina offered tips on how to improve your relaxation and discussed the life changing relaxation techniques I'd learned over the years.
Daydreaming Can Create your Future
According to research in neuroscience, creativity occurs in the moments of rest rather than while we're working on or thinking. So, do yourself a favor, schedule time to daydream. Perhaps in your daydream, you see your finished film on the screen in your favorite screening room and feel your success as you jump out of your seat and bow to your standing ovation.
Physicist Fred Alan Wolf, author The Dreaming Universe, told me in an interview, "when you are daydreaming you are really creating your future. It's like a handshake across time." Later in your life when you experience this event, you feel like it has happened before. That is because you truly experienced it in your dreaming time, which can create your future.
It created my future. During boring school classes I put on a bright smile and took off to be on the set with my favorite movie stars and watch films getting made. I was flying over the Great Serengeti and watching the wilder beast migrate, I was gliding down the Nile on a slow boat and riding elephants in India.
All these things I experienced almost exactly as I had day-dreamed them. I remember flying low over the wildebeest and in fact when I went to Kenya, I saw the same vision I had in meditation while I was ballooning over the wilder beast. It felt just like I had imagined, before I even knew what ballooning was. These experiences all felt like they were deja vous, like I had done it before and in fact I had.
Meditation Manifests Miracles
Sevina highly recommends meditation. "Did you know that meditation is over 5,000 years old? People do meditation to maintain health, heal their bodies, calm their minds and reconnect with their spirit. The most important things in meditation is that you are connecting with your higher self. Meditation lets the mind relax."
As a 40-year meditator, I fully agree. While I was running three offices, NY, Chicago and LA I meditated twice daily. That was a time you could not talk about meditation or they thought you were a "kook." Especially when you were in the business of film and talking to engineers.
So, I learned quickly to find a quiet place, tell no one, and just disappear for 20 minutes. In NYC, that was the air conditioner room and in L.A., the office supply room. I would put a note on the door, "taking inventory," but they knew I was meditating as it soon became very quiet in that place.
This was the most beneficial thing I could have done to help me run three offices at once. At some point, I read about TM, transcendental meditation, and decided to try it. Little did I know that Seinfeld and Paul McCartney and David Lynch were all hiding in closets like me. All of us were experiencing reduced stress and anxiety, better sleep, greater clarity, calmness and a great memory.
I still do this twice a day and now I have a pathway to heaven. I created a super-highway in the circuits of my brain, so I go to a quiet state quickly and 20 minutes evaporates. It is the way to live your life with less stress.
Sevina says, "Any type of meditation that works for you is what you should do. A walking meditation works for some people, a driving meditation works for some." (I always end up in some strange location so I can't do this!)
Find what works for you and be good to yourself, put this in your google calendar MEDITATTE MY FUTURE INTO BEING
Music Does Sooth the Beast in Us
"You can relax by listening to soothing music" says Sevina. An article by John Stuart Reid, cymascope.com, says experimentation has found viable red blood cells remained higher in number when exposed to music vs silence, indicating promising results for healing. He says that music therapy, a concept first espoused by Pythagoras of Samos 2,500 years ago, is gaining popularity for depression and relieving anxiety.
"There are millions of studies that show that meditation decreases stress. It will decrease your blood pressure and you have quality sleep. Your entire health will improve, and you will get a stronger immune system.
"When you practice meditation or relaxation, you connect with your partner much better. You can even resolve problems easily. Because you are coming from the perspective of love and understanding, you have this ability because now you are relaxed."
Breathing Exercises are Perfect Before Meetings
Relaxation can decrease stress and tension in a matter of minutes. Learn to control your nervous system through relaxation practices such as meditation, Reiki, breathing exercises and yoga. It's very, very easy. Anything that brings you joy and calms you down is relaxing.
I want to share a breathing exercise that is incredibly super simple, quick, and beneficial.
You take a deep breath, hold it for three seconds and you slowly exhale. If you repeat this three-to five times, taking deep breaths and holding them for three to six seconds then slowly exhale, you will find after the fifth time your body starts relaxing.
This is something you can do anywhere, before a meeting or a at rehearsal or before you pitch your film.
Please check out Sevina's website at www.stressmanagementresources.com. She has meditations, deep relaxations, she does Hypnotherapy and relaxations on SKYPE. Sevina.altanova@gmail.com. She is dedicated to helping filmmakers improve their health and create their art. She is also doing some mindful eating workshops soon that all of us can benefit from.
Carole Dean is president and founder of From the Heart Productions; a 501(c)3 non-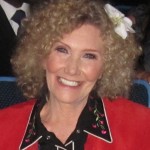 profit that offers the Roy W. Dean Film Grants and fiscal sponsorship for independent filmmakers. She hosts the weekly podcast, The Art of Film Funding, interviewing those involved in all aspects of indie film production. She is also the author of The Art of Film Funding, 2nd Edition: Alternative Financing Concepts. See IMDB for producing credits.