by Carole Dean
As important as it is to celebrate getting financing for you indie film, it's necessary to show gratitude to those that gave you the money.
Showing or giving gratitude, is principal 3 in Wallace D. Wattles book The Science of Getting Rich. Long before "The Secret", Wallace's book pioneered how to use power of our minds to better our lives, become successful, and to expand our creativity.
In my third video in analyzing his work, I go into the rewards and benefits of gratitude in creating success.
Ask Largely
Wallace says do not be afraid to ask largely. Do not look upon poverty as part of the plan.
Wallace shared the story of a poor man living in a rented house having only what he earned from day to day. He decided to ask for a new rug for the floor of his best room and a coal stove to heat the house.
Following Wallace's instructions to use the power of his mind to form in his thoughts that which he wanted, he obtained these things in a few months. Then it dawned upon him that he had not asked enough.
He went through the house and planned on what he wanted and holding this picture in his mind and living in the Certain way he began moving toward what he wanted. Now, he owns the house and is rebuilding it to his mental image.
Gratitude Will Lead Your Mind
You need to relate yourself to the Formless Intelligence in a harmonious way to bring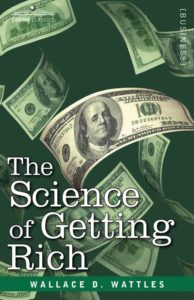 you into perfect unity with God. You must first believe that there is one Intelligence substance; second you believe this this substance gives you everything you desire and third you relate yourself to it by a feeling of deep and profound gratitude.
Therefore, the soul that is always grateful lives in close touch with God. The mental attitude of gratitude draws the mind into closer touch with the source from which blessings come.
Principal 3 of Wattle's The Science of Growing Rich is Gratitude and this will lead your mind along the ways by which things come.
The Law of Gratitude
It will keep you in close harmony with creative thought and prevent you from falling into competitive thought. There is a law of Gratitude and it is absolutely necessary that you should observe the law if you are to get the results you seek. The law of gratitude is the natural principle that action and reaction are always equal. The outreaching of your thankful praise will bring an instantaneous movement towards you.
The moment you permit your mind to dwell with dissatisfaction upon things as they are, you begin to lose. Your fixed attention upon the ordinary, the poor and the mean and your mind takes the form of these things and attract them to you. We are thinking substance and thinking substance always takes the form of that which it thinks about!
The grateful mind is constantly fixed upon the best and tends to become the best. Also, faith is born of gratitude. The grateful mind continually expects good things and expectation becomes faith. Please be grateful for every good thing that comes to you and give thanks continuously. Your rewards will be many. You life's energy will increase and your respect for your fellow man will be enhanced.
We will continue with Principal 4 in the next episode of Wallace D. Waddles the Science of Getting Rich.
Carole Dean is president and founder of From the Heart Productions; a 501(c)3 non-profit that offers fiscal sponsorship for independent filmmakers. She hosts the weekly podcast, The Art of Film Funding, interviewing those involved in all aspects of indie film production. She is also the author of The Art of Film Funding, 2nd Edition: Alternative Financing Concepts. See IMDB for producing credits.