By Carole Dean
A technologist, a linguist, and a cognitive psychologist. Ina Sofia Kalo is also the creator of Puzzle Theory (PT) for independent filmmakers. Developed by Ina over two years, Puzzle Theory is an exciting tool for independent filmmakers. With it, Ina has created a way for filmmakers to attach to their audience while making their film. As you know, finding and engaging your audience early is important because many of them will fund your film.

"Less than one percent of films reach a distributor via film festivals." Ina shared with me in a recent interview on my The Art of Film Funding Podcast. "However, let's say you get a distributor, their goal is to spend lots of money for PR and marketing, recoup their expenses, make some profit and then quickly move to the next film because you're already an old product. I think the entire system has become completely unsustainable.
"I wanted to build a humane technological system, which allows for real deep, meaningful human engagement, the way humans truly engage over time with ups and downs, with multiple points of connection, with inspiration and curiosity."
How Puzzle Theory Works
"You or your production company can register a film at any stage of production," Ina explained. "It can be any genre. Our categories are fiction, documentary, TV series or animation. You build your own page. It will have your unique URL and you can post the link anywhere.
"You have different modules that give information about you, you but basically you start curating your film using storyline. You combine original pictures and video or production shots and video with hand selected content from your existing social media accounts and pages.
"Using our proprietary technology, you can tag and extract any information from current content of your existing social media. We give you the tools to hand select only the most special pieces that you want to include with the making of your storyline."
Build it Like a Puzzle
Perhaps you start with a shot of your first day of shooting. Then, you have that one Facebook post that you selected because this post is the one that people love and you had the most response. Or include what everyone thought was very funny, put that in. Then you have let's say some video that you produced, put that in. You have Instagram that you want to post, perhaps something on your lead actress.
What you are doing is putting different social media views about your production, and information on your crew and your storyline in one place in a timeline. This can be your most valuable promotional asset. It will be one coherent narrative that can be accessed at any time, and even after the film is completed it can stay online for a small $38.00 fee per year.
How Puzzle Theory Can Benefit Filmmakers
Ina told me a story about a Swedish filmmaker who entered a Film Festival. When the festival asked him to send his materials, they expected to get a one sheet, a bio, etc. Instead, he sent them his Puzzle Theory that he'd created.
The organizers of the Film Festival were shocked. They called to talk to him about what he was doing because he had over 75,000 people who were watching the making of his film and they were in 12 different countries! The Film Festival was impressed and excited because he knew his audience and he was in constant contact with them. This gives you an idea of what you can do with Puzzle Theory.
Connecting and Finding an Audience When You Start Developing Your Film
Ina says people connect to ups and downs, to blood, sweat and tears, to real human moments way more than a packaged product. So, they are getting a look at the backstory of the film that brought you to where you are now. They feel connected and if they like the subject materials in your film, they are even more connected to you.
You can share the link to your film page with anyone over the world or people can search for your film on Puzzle Theory. You can also keep your film page private and share only a private link. This is up to you.
People may find you from being on PT where they can search by genera and find your film. PT is used by distributors to see what is being made. People share this link all over the world and you may have people find you from around the world. You can keep it private until you want to open it up to the world. This is up to you.
By posting often people can see your movement with the film. They can log on to PT day or night. Since we know the average time to make a documentary is six years and a feature is from 3 to 8 years you will have an interesting story history for your audience to connect with you.
You can link your PT information to your crowdfunding page. This way people can see the entire story of making the film and the inside information long after donating.
How to Get Puzzle Theory
At this point Puzzle Theory is by invite only. Ina is checking content and does not want violent films or nudity. She has a brilliant website and best of all she has a question and answer session monthly. You can find that on her site and get to hear her personally.
She is most enthusiastic about this brainchild of hers and rightfully so. This can be a major asset for you in your Public Relations, Marketing and Distribution. This is a place that you can proudly sit back and look at what you have achieved.
You can hear the entire interview here and get more specific information and costs. https://www.blogtalkradio.com/the-art-of-film-funding/2021/03/10/puzzle-theory-is-the-answer-to-marketing-distribution-for-indie-filmmakers
Contact for Ina and PT is contact@puzzletheory.com
Carole Dean is president and founder of From the Heart Productions; a 501(c)3 non-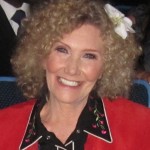 profit that offers the Roy W. Dean Film Grants and fiscal sponsorship for independent filmmakers. She hosts the weekly podcast, The Art of Film Funding, interviewing those involved in all aspects of indie film production. Her new class "How to Fund Your Film" is available on Vimeo on Demand. She is also the author of The Art of Film Funding, 2nd Edition: Alternative Financing Concepts. See IMDB for producing credits.