Winning filmmaker receives prize of $3,000 and thousands more in production services
Celebrating it's 3rd year, the Roy W. Dean Short Film Grant is awarded to a short narrative fiction film that is unique and that makes a contribution to society. From the Heart Productions, a top-rated 501(c)3 non-profit grant that sponsored the grant, has selected Hungry Ghosts from filmmaker Nathan Carreon Lim as the recipient of the 2023 Roy W. Dean Short Film Grant. Nathan will use the award to produce and complete his project.
Set in early 90's Chinatown, Hungry Ghosts explores a young gangster's changing perception of past and present events after his deceased friend reappears on rival gang territory.
"Nathan's talent is evident from his fantastic prior work," said Carole Dean, President of From the Heart Productions. "We are excited to be able to nurture and support him in creating this new film."
In addition to the $3,000 cash prize, the grant winner will receive $500 in grip, lighting or expendables from Filmtools, $3,000 in music and audio services from well-known composer David Raiklen, $6,000 in animation from Emmy award winner Charlie Canfield, $1,600 value / sound mix session from Silver Sound, and more from heart-felt film industry companies and individuals.
About the Film
"Many filmmakers have spoken at length about the inherent connection between memory and cinema," explains Hungry Ghosts filmmaker Nathan Carreon Lim. "Through these films, we are given the equivalent of modern-day myths – stories that harmonize our personal experience, cultural identities and collective histories with spiritual tenets.
"This short film is my own attempt at expressing the relationship between these different planes of reality. That is, to articulate how our internal and external worlds interact with one another; how we each participate in a collective experience within the amorphous framework of a subjective paradigm."
About the Filmmaker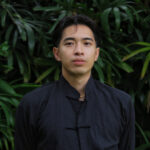 Nathan Carreon Lim – Director – Nathan is a Filipino-American film director and music producer of Chinese ethnicity.
Perhaps due, in part to his mixed ethnic and cultural background, Nathan's films often explore the nature of the self In both a mundane and spiritual sense.
His first short film, Did it Hurt? premiered at the San Diego Asian Film Festival, alongside films by masters Edward Yang, Tsai Ming Liang, and Jafar Panahi.
Most recently, the film won Best Fiction at Tampere Film Festival, one of Europe's oldest and most important short film festivals.
About the Roy W. Dean Grant
From its inception in 1992, the Roy W. Dean Grant has awarded over $2,000,000 in cash and donated film services to independent films. It has been an important lifeline for independent filmmakers that help to get their projects started or finished. Without assistance from the grant, many excellent and important films may never have been made.
Prior winners of the Roy W. Dean Short Grant include Stairway to the Stars and Love Taps. Other winners of the Roy W. Dean Grants include Emmy Winners Belly of the Beast and The Love Bugs, the award winning narrative feature Cadejo Blanco which is now in theaters around the world, 2019 Sundance Film Festival selection Raise Hell: The Life and Times of Molly Ivins, the acclaimed documentary Kusama-Infinity.
About From the Heart Productions
From The Heart Productions is a 501(c)3 non-profit dedicated to helping filmmakers get their projects funded and made. They have been chosen a top non-profit for eight years in a row by greatnonprofits.org. Besides providing funding through the grant, they offer a unique film sponsorship which has helped filmmakers raise over $30 million for their projects. The program offers personal consultations and guidance on finding funding their project.
President Carole Dean, is a published writer, a producer, and instructor for two essential classes for indie filmmakers. She wrote the best-selling The Art of Film Funding: 2nd Edition, Alternative Financing Concepts. Her Intentional Filmmaking Class teaches film funding. Her new course, Learn Producing: The Ultimate Guide to Indie Film Production is a year-round course that provides filmmakers with the essentials they need to produce their projects.