Timely Story That Examines Anti-Asian Racism Receives Award for a Film That is Unique and That Makes an Exceptional Contribution to Society
From the Heart Productions , the top-rated non-profit dedicated to helping indie filmmakers get their films funded, has named Director/Writer/Editor and Actor Anne Hu as winner of the Britt Penrod Award for her short film "Lunchbox". This award goes to a project that was submitted to the Roy W. Dean Film Grant for Spring and selected as a finalist. Anne will receive a $500 prize that will help support her effort in completing this film.
"Anne has done a brilliant job handling multiple jobs to bring this very personal and touching film to completion," said Carole Dean, President of From the Heart Productions.
Currently in post-production, "Lunchbox" is a dramatic, three-part, coming-of-age short film about regret, healing, and honoring the people we love. When a Taiwanese American woman prepares lunches from her childhood, she struggles to forgive herself for pushing away her immigrant mother.
Based on a true story, this retelling examines the personal cost of fitting in as well as the recovery from cultural and familial loss.
About the Filmmaker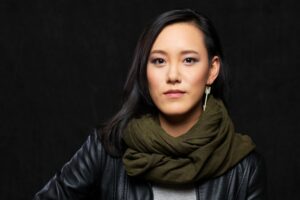 Anne Hu – Director, Writer, Editor, Lead Actor (Adult Shirley & Teen Shirley) Anne is a Taiwanese American, award-winning director, writer, editor, and actress. Her directing focus is in narrative film, TV, and commercials.
As seen in The Hollywood Reporter, Hu made the 2020 Alice List for Emerging Female Filmmakers Who Have Not Yet Directed a Feature. She was selected to participate in Netflix's Original Series Directors Development Program from 2020 to 2022. She shadowed director Marc Webb (500 Days of Summer) on Netflix's The Society. Hu is also a fellow of the 2019 Space on Ryder Farm FilmLab.
She has directed, written, and starred in award-winning short films. Her short CAKE was accepted into 38 festivals, earned 9 awards, and was featured in The Washington Post. As an actor, she has trained at T. Schreiber Studio, The Barrow Group, and The Freeman Studio. In CAKE, she and the cast were nominated for Best Ensemble.
Hu hopes to provide catharsis for audiences and inspire them to regard marginalized voices with their whole humanity.
About the Britt Penrod Award
The award will be presented to a finalist for Roy W. Dean Grant whose film is unique and makes an exceptional contribution to society. The Britt Penrod Award was made possible by a donation from longtime friend of 501(c)3 non-profit From the Heart Productions and the Roy W. Dean Grants, Britt Penrod. Results of the award have no bearing on the eventual winner of any of the Roy W. Dean Grants.
Winners for 2021 include the documentary 26 Seconds for the Roy W. Dean Film Grant for the Spring Grant, The Bridge Ministry which won for the Summer Grant, and Separation which won for the Fall Grant. The Fog Catcher won for the Roy W. Dean Short Film Grant.
Britt is president of Giant Entertainment & Management Inc. (G.E.M.) is a Los Angeles based Film & Television Studio design and development company with in depth experience in the United States, Europe and Asia.
G.E.M. delivers knowledgeable business foundations to Studio development projects that include; Market Analysis, Site Planning, Operating Financial Evaluation, Construction, MEP & Value Engineering, Start-up of Operations and ongoing Management Services for stage-based entertainment properties.
About the Roy W. Dean Grant
Now in its 30th year, the Roy W. Dean Grant has awarded over $2,000,000 in cash and donated film services to independent films. The grant is awarded to films budgeted under $500,000 that are unique and that make a contribution to society. It has been an important lifeline for independent filmmakers that help to get their projects started or finished. Without assistance from the grant, many excellent and important films may never have been made.
Past winners of the grant include new Emmy Winners Belly of the Beast and The Love Bugs, 2019 Sundance Film Festival selection Raise Hell: The Life and Times of Molly Ivins, as well as acclaimed documentary Kusama-Infinity.
About From the Heart Productions
From The Heart Productions is a 501(c)3 non-profit dedicated to helping filmmakers get their projects funded and made. Besides providing funding through the grant, they offer film fiscal sponsorship to filmmakers. This allows donations made to films they sponsor to be tax deductible. From The Heart has helped independent filmmakers raise over $30 million through it's fiscal sponsorship program. President Carole Dean is the best-selling author of The Art of Film Funding: 2nd Edition, Alternative Financing Concepts and the new online class "How to Fund Your Film".
For More Information and interview requests, please contact:
Richard Kaufman
richard@fromtheheartproductions.com
www.fromtheheartproductions.com