"Silent Epidemic" of Physician Suicide Exposed in Eye-Opening Documentary Feature
Oxnard, CA Jan 16th, 2016 Why are the doctors we rely on to keep us healthy, ending their own lives at an alarming rate? Emmy winning former PBS Producer/Director Robyn Symon examines this critical problem in the documentary Do No Harm, the winner of the Fall 2016 Roy W. Dean Grant. As the grant winner, Robyn will receive $30K in cash, film products, and services to help her finish her project.
The Roy W. Dean Grant is awarded 3 times each year to a unique film that makes a contribution to society. Founded in 1993 by the 501(c)3 non-profit From the Heart Productions, grants are open to all types of film projects including documentaries, short films, features, and web series in any stage of production
Following three people bonded by grief, "Do No Harm" delves into why young physicians in medical school have the highest suicide rate of any profession, almost twice the national average. They are jumping from hospital roofs, hanging themselves in closets and overdosing on readily available drugs. "This documentary reveals a dark side of our medical system." commented Carole Dean, president of From the Heart Productions. "We are proud to support Robyn and her work to shine a light through her film on this important underreported story."
The film shows how what it calls this 'dirty little secret" in the medical community is a symptom of a broken heath care system that's not only putting the lives of doctors at risk… but patients too.
"Medical mistakes are the third leading cause of death in the United States alone,"notes director Robyn Symone,"often caused by sleep-deprived and disillusioned doctors forced to practice assembly line medicine. And the crisis is getting worse."
About the Filmmaker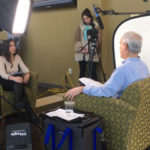 Robyn Symon is a two-time Emmy winning Producer/Director and has produced programming for many national networks including PBS, The Travel Channel, CNBC and DISCOVERY HEALTH. Robyn began her career as a TV news reporter in Texas before joining the PBS station WPBT in Miami, where she produced documentaries, public affairs programs, the TV series Florida!, the docu-series Voices of Vision, and the medical series Health & Family airing on the Discovery Health network.
Her most recent film, Uncle Gloria: One Helluva Ride!, was selected for a prestigious Film Independent Documentary Lab Fellowship and will premiere at a Miami film festival in April 2016. In addition to two Emmys, Robyn has been honored with 3 national Telly awards; 2 national NABJ awards and honors by both the Associated Press and UPI.
The Fall 2016 Roy W. Dean Grant includes $3,000 cash given by From The Heart Productions. The winners also receive a hard drive from G-Technology, $15,000 in theme and score music from composer David Raiklen, $6,000 in animation services from Charlie Canfield, one week DSLR camera package rental from Birns & Sawyer, and much more from many heart-felt donors.
About the Roy W. Dean Grant
Now in its 23rd year, the Roy W. Dean Grant has awarded over $2,000,000 in cash and donated film services to films. The grant has been an important lifeline for filmmakers needing help to continue working on their film and to get it completed. Without assistance from the grant, many excellent and important films may never have been made.
Past winners of the grant that have been completed include the Emmy winning Mia: A Dancer's Journey, the SXSW Best of Fest Music Film The Winding Stream: An Oral History of the Carter and Cash Family, and the now in release on video and on demand the very relevant The Brainwashing of My Dad.
About From The Heart Productions
From The Heart Productions is a 501(c)3 non-profit dedicated to helping filmmakers get their projects funded and made. Besides providing funding through the grant, they are also a fiscal sponsor which allows donations made to films they sponsor to be tax deductible. From The Heart has raised over $2.4 million for crowdfunding films as a partner with Indiegogo. President Carole Dean is the best-selling author of The Art of Film Funding: 2nd Edition, Alternative Financing Concepts.
For More Information, please contact
Richard Kaufman
richard@fromtheheartproductions.com