We Invited Our Fiscally Sponsored Filmmakers to Share Stories of Moments that Changed Their Lives
By Carole Dean
Every two weeks for over two years, I've conducted our Film Funding Guidance Class for all or fiscally sponsored filmmakers.
In it, my board and invited guests and I impress upon our filmmakers the power they have in their minds and how to use their intentions to complete their film. We give practical advice on how to help keep them motivated moving forward. Each week, a filmmaker is invited to pitch their project. They get invaluable advice from us and other filmmakers on how to improve it.
With the sudden onset of the Covid-19 pandemic, it was easy to tell from my conversations with them that our filmmakers were distracted and worried. They were concerned about the health and welfare of friends and family. They were also very down that with many of their projects were now on hold.
I wanted to do something that we could do as a group. Something that would support other artists and filmmakers. It would need to be a project that would lift all our spirits, bring us closer together, and put our filmmaker's brilliant minds to good use.
Extraordinary Filmmakers
We discussed many options and one that had the most resonance for them was for each of us to write a chapter in a book. They keep the rights and let From the Heart Productions publish the eBook.
I suggested a working title of Extraordinary Filmmakers.
They could write about anything spiritual that happened to them. Or, they could write about something extraordinary in their lives, even the moment when they knew they had to be a filmmaker/storyteller.
First Meeting
It was agreed that we'd meet once a week. We had our first meeting via conference call and the turnout was great. So many attended that we'll be able to have 12 chapters of the book.
Some key decisions were made.
Our deadline for edited copy will be July 24th, 2020. Filmmakers will break up into groups to help each other with chapters. We'll appoint editors to review the work during the 3 months until project end. In each meeting, we'll discuss the most recently finished chapters and offer advice for any improvement.
Giving Back to Other Filmmakers
It was also decided that the book will be for sale. The profits will go to an emergency fund for filmmakers in need.
I could not be happier with the response, excitement, and energy surrounding this project. It is a great opportunity to put in writing important moments in their lives and inspire others. Also, I'm very glad that any money generated will be used as well to help other filmmakers.
Carole Dean is president and founder of From the Heart Productions; a 501(c)3 non-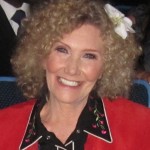 profit that offers the Roy W. Dean Film Grants and fiscal sponsorship for independent filmmakers. She hosts the weekly podcast, The Art of Film Funding, interviewing those involved in all aspects of indie film production. She is also the author of The Art of Film Funding, 2nd Edition: Alternative Financing Concepts. See IMDB for producing credits.