Need to win a film grant? Carole Dean shares her wisdom and experience on why it helps to know your audience, nail down your story, and never give up!
By Carole Dean
Having overseen the Roy W. Dean Grant for 26 years, I've read thousands of grant submissions. Through my non-profit, From the Heart Productions, I've helped our fiscally sponsored filmmakers apply for and win hundreds of thousands of dollars in local, state, and foundation grants over the last 25 years.
I know what makes our judges and others seriously consider a grant application. Here are some tips on how you can improve your chances to win a film grant for your project.
Film Must Fit Criteria for the Grant
Grantors say this is the number one reason for denying a film a grant. So be sure you have a chance to be accepted before you put in your time.
One woman filmmaker I worked with applied for 5 grants and won 4! This was Rebecca Dreyfus and her film "Stolen" won the Roy W. Dean Grant. How did she win so many? She did not apply for hard to win grants that might have been a reach for her project. She chose carefully and put her energy into grants she felt were the best fit for her film.
Story, Story, Story
At the Roy W. Dean Grant, we fund stories. Other grantors look for great stories as well. Brilliant, heart-felt, revelatory, life altering stories with strong characters. So when creating your application for the grant, you will need a visually written proposal. It needs to let me "see" the film as I read your proposal.
For Documentaries, Tell Us What The Film Will Be About
I realize you don't know what will happen when you turn on your camera to make a documentary. In fact, many times you are taken into an entirely different film. However, you have to tell us what you think the film will be.
We know you often don't know and that's ok. The filmmakers behind the award winning "Virunga" thought they were just doing a documentary on an park rangers at an animal preserve when a civil war broke out. But, we want to know that you have thought it out carefully and you "think" you know where it is going.
I can say that most of the documentary films we funded, where the filmmaker did not know what the film would be about in the end, turned out better than any of us imagined.
Why Are You Making This Film?
I want to know this up front. This information tells me if you are there for the long, hard times that may lay ahead. I want to know: Do you have the tenacity to finish? You have to allay my fears in the beginning of your proposal with your passion.
Who Is Your Audience?
Do you have any idea who the people are who will want to see your film? Do you know how you will reach them? I want you to tell me that. All of the grantors want to know this. Just making the film is not enough; you have to identify who will support it. Attach your audience to the film as you are making it. Tell us how you are doing this.
Never Give Up!!!!
It was the motto of the Suffragettes and I want you to adopt it. Know that rejection is part of the process and that you will learn each time you are rejected. Know that each grant you enter, you get better and so does your film. And, you now know the people at that granting organization and in our industry. Who you know is an asset to you.
Carole Dean is president and founder of From the Heart Productions; a 501(c)3 non-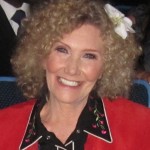 profit that offers fiscal sponsorship for independent filmmakers. She hosts the weekly podcast, The Art of Film Funding, interviewing those involved in all aspects of indie film production. She is also the author of The Art of Film Funding, 2nd Edition: Alternative Financing Concepts. See IMDB for producing credits.