Don't think of crowdfunding as asking for money. Think of it as inviting people to join your community. You'll be a lot more successful
by Carole Dean
When you are crowdfunding, you may think you are just asking friends, relatives, your dentist, for donations. But, you are inviting others to join together to support you in the making of a film.
Asking people to "join your community to make a film" is a totally different energy than asking people for donations.
This is the energy of inviting.
When Creating Your Crowdfunding Page Write it Like an Invitation.
People love films. And hopefully, they will love yours enough to join accept your invitation.
Every film has something remarkable about it. What is remarkable about your film? What is it about it that will make people join together and make it happen?
Use the concept of a "sticky story" (make this a link to the article) so that people can remember what you tell them. Create a story with something emotional, something shocking, something concrete and something very credible so they can remember and pitch your film to their friends and earn social currency.
Make a List of What You Need People To Bring
You need more than money to make a film. The benefit of bringing a community together is gathering together those with different talents and skills. Talents and skills you need to make your film.
You should list exactly what you need. That might be people to help you with social networking, a personal assistant, a driver, or someone to help with food on the production, etc. Think of the things that you want and ask for them on your page.
How to Answer "What's In It For Me?"
You can't invite someone to join in making your film without expecting to give them something in return. Donors always want to know "what's in it for me? "
This is where you can get off the charts creative with your gifts for supporting your film. You could have standard gifts like t-shirts, mugs and social media shout outs, but I really, find these are boring gifts.
Think of something unusual and exciting.
Gifts That Donors Share With Others
Here's one great example. One person on a crowdfunding campaign was very talented with the Photoshop. He asked people who donated "where do you want to be?" Then, he took a photo of them and photo shopped them to that dream location.
One person was put on the moon and another in the South Seas. Another was place on an expensive yacht. Of course, the donors loved these photos and they quickly posted them on Facebook, twitter, all over social media. They also and drove new people to the filmmaker's campaign and this created new donors. This is what you want. You want your donors promoting you.
Recently, I had a filmmaker offer a hand-drawn portrait for $100 on her network for good campaign. I couldn't resist! So I donated and she sent me a precious hand-drawn photo. It was well worth the hundred dollars and the fun of seeing a personal rendering of a photo.
Use Your Creativity
Use that brilliant creativity of yours for your crowdfunding. Don't just focus on how you can get money out of someone. Think about how you can get them to accept your invitation to help you and others make your film a reality.
Carole Dean is president and founder of From the Heart Productions; a 501(c)3 non-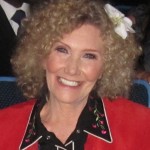 profit that offers fiscal sponsorship for independent filmmakers. She hosts the weekly podcast, The Art of Film Funding, interviewing those involved in all aspects of indie film production. She is also the author of The Art of Film Funding, 2nd Edition: Alternative Financing Concepts. See IMDB for producing credits.