How much planning should go into your film's Indiegogo campaign?
Are the perks you picked going to attract donors?
Have you created a plan to share interesting, relevant content?
To get answers on these questions and how to create a successful crowdfunding campaign, Carole Dean interviewed Indiegogo's New York-based Manager of Film, Kristen Konvitz.
About The Art of Film Funding Podcast               
From the Heart is a partner with Indiegogo and has raised over $1.7 million to date for filmmakers.  Hosted by the president of From The Heart and author of "The Art of Film Funding", Carole Dean, the weekly podcast focusing on bringing to filmmakers the best advice, knowledge, and expertise on film funding and filmmaking.
You can check out all the podcasts at The Art of Film Funding on Blogtalk Radio.
In this latest podcast, she interviews Indiegogo's Kristen Konvitz.  Her role at Indiegogo includes acquiring projects in varying stages and overseeing them through all stages of their campaigns.   She is instrumental in building relationships between both established and up and coming talent.
Kristen reveals the three top tips to a successful crowdfunding campaign as well as details on Indiegogo's new partnership with Vimeo.
You can listen to the entire podcast here
Three Top Tips for Success on Indiegogo
Kristen draws on the success of the Indiegogo campaign for Iron Sky for her 3 tips.  Iron Sky has run two very successful campaigns on Indiegogo.  The first raised over $160,000 while the second raised over $480,000.
Iron Sky called their three tips the "trifecta" (although, maybe after realizing its importance to their success, they now call it "The Holy Trinity").
Unique Perks
To stand out, you can't just offer hats or t-shirts.  Those are standard items and won't really generate any excitement or buzz about your project.  Offer perks that are very personal to the film, filmmaker, or story.   Think of what would tie in to the film that you could not get any were else.
Some perks that are experiential will create interest in your project.  Iron Sky offered a part in the film where you would be chased by a dinosaur.   Even if you did not choose that perk and donate, it was shared by many on the internet creating awareness for the project.
Constant Updating
Prepare yourself as much as possible for the campaign.  That includes mapping out a campaign strategy for the content you will share.   Plan out different photos, videos, interviews,  as well as new perks that you will release during the campaign.
Good Content
The content you plan and share for your project can't be spam.  It can't be "support my campaign" or "donate now" over and over.   It can include that every so often, but the content should be interesting and make people want to share it.   It can include stories about the cast and crew.  Photos of the project in pre-production.  Also, include articles about events or news related to your project (Doing a documentary on fashion?  Include related stories on fashion industry)
Iron Sky prepared videos in advance featuring a character for their film.  It was like a mini trailer, but each was unique and increased interest in the project which lead to increased donations.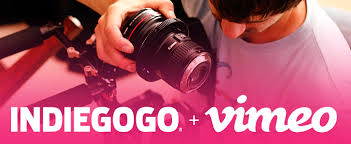 Indiegogo's Partnership with Vimeo
Announced in January, this partnership was created to give filmmakers who raise funds on Indiegogo a chance to be seen. Indiegogo realizes that most films will not get a traditional theatrical or VOD distribution.   This partnership allows eligible films to shown on Vimeo and get needed exposure.
Vimeo's new Creator Fund will commit up to a million dollars in matching funds for select Indiegogo film campaigns in 2015.  Vimeo will contribute digital marketing spend and social promotion for campaigns in the matching funds program and other selected Indiegogo film campaigns.
For these funds, Vimeo will get a 60 day digital exclusive for that film.  It does not preclude the film later getting a theartrical release, for example, at a film festival.
The partnership is off go a great start.  It has received 166 submissions so date.  You can read more about the partnership at Indiegogo and Vimeo Partnership.