Tips from Authors and Scholars on How to Successfully Pitch Your Film Project to Land Donors and Investors
by Carole Dean
One of the best books for filmmakers seeking funding is Think and Grow Rich by Napoleon Hill. In his book, he explains how 500 men became wealthy by using the concepts he describes.
Many filmmakers want to become successful and rich. They want knowledge and riches. So why not use the material that made so many other successful people?
Film Pitch Advice…From Gandhi?
In a chapter on faith, Napoleon Hill shares the story of Mahatma Gandhi. Starting his career as a lawyer in India at the dawn of the 20th century, Gandhi eventually became a leader and inspiration for hundreds of millions in India and around the world for civil rights and freedom.
He writes that Gandhi wielded more potential power than any living man at that time despite the fact that he had none of the orthodox tools of power, such as money, battleships, soldiers or materials of warfare.
Gandhi, Hill writes, had no money, no home, no suit of clothes, but he had power. How did he come by that immense power? He created it out of his understanding of the principle of faith and through his abilities to transplant that faith into the minds of 200 million people.
This is very similar to your job as a filmmaker, which is to create faith in your potential donors when you pitch your film.
You want people to believe in you and have the faith and believe that you can perform and deliver a successful film on time and on budget. They want to believe that you will successfully complete your film.
Have Unwavering Faith in Yourself
The key to selling your film to others is your faith. You need to have unwavering faith in yourself, in your film, and faith in your ability to pitch your film.
I have many filmmakers call me for questions and when we're talking, I often say, "pitch me your film." They say well I'm not good at pitching, but I will read you what I have, or I will try to give it to you.
This is not what it takes to fund your film. People must hear your enthusiasm, your confidence. You need to learn how to sell your film with your pitch. Don't miss a good opportunity to pitch your film for any reason.
You want to have total faith in you and your film. If you do not have faith in yourself and in your film, people will feel unsure about you.
You've Got Just 30 to 60 Seconds
Your film pitch should be part of your DNA. You always need to carry it with you. You need know in every fiber of your being, that you can successfully pitch the Queen of England or the homeless man on the street. That faith inside you will come through in your language, your eye contact, your posture.
You want to be excited about your film and let me hear that excitement in your voice. Your whole body should light up when you start to pitch because you are talking about your precious art.
Albert Mehrabian is a Professor Emeritus of Psychology at the University of California, Los Angeles, who researched the importance of verbal and nonverbal communication. He says that people make decisions within 30 to 60 seconds of meeting you.
The first decision they make is whether they like you and trust you. That's the most important decision they're going to make.
You must get through that like-you-trust-you barrier in order for you to get a donation or a discount or the best DP for your film. Everything you want comes from the way you pitch your film.
People Give Money to People, Not to Films
Professor Mehrabian says that 55% of your potential donor's decision is made by how you present yourself.
Do you have direct eye contact? Can you look someone right in the eye and pitch them without ever wavering and show total confidence and total belief in you and your film?
He says that your posture is important. You must sit up straight be proud of yourself and carry yourself with dignity and confidence.
I know from pitching donors for the grant that you want to feel 100% confidence in yourself. You're asking someone for their hard- earned money.
The point is that people give money to people not to films. That's what they think. They decide if they trust you and then they give the money to the film.
Keep in mind that you are the film. When you are pitching your film, it is part of you, and your goal is to make people feel they can trust you.
You may not realize that your body language gives off subliminal clues that your donor will pick up immediately. You need to be absolutely relaxed, confident, assured that you will be able to raise the money for the film. Any doubt that you have could be detected easily by donors.
Calm Down, Chill Out and Be Your True Self
While your physical actions represent a 55% chance of success or your audio, your voice represents 38% of the decision-making process to your donor. This is based on what you say and most importantly how you say it.
You need to be excited and thrilled about your film. You need to be spreading this joy and happiness and success to the donor. Make them want to be part of your film.
If you are the least bit depressed, sad, or not in a good mood, don't go to a meeting and don't get on the phone to pitch someone. It may be the only opportunity you have with that person. Don't take a chance.
Just say this is not the day and then get yourself back in shape because you must be happy, successful, joyful, confident, and thrilled with the opportunity to share the information about your film.
Your voice is an important decision maker for them. If you seem disinterested, slow down too much, or if you're dragging your feet and pausing too much in your delivery, you will turn them off. They will feel that you are not confident.
If you're not excited about a project, how can they get excited?
You want your pitch to be so well delivered that you have no doubt that you can fund your film and that you can create a film that is even better than they can imagine.
To do this, you need to get across to the potential donor or investor that they can trust you. They need to like you and trust you.
Practice, Practice, and then, More Practice
Now the shocking part of Mehrabian's information is the percentage given to the pitch. What percentage of persuasive power is in the words of the pitch? Only 7%. So, this is a very important number for you to realize. Your posture, your confidence, your belief in yourself are the key to funding your film.
The most important thing is to create faith for yourself and in your film through your posture, your appearance, your voice, your enthusiasm and finally through the words of your pitch. The best way to do this is practice and more practice. A good mantra for you to keep saying is "Practice makes perfect."
Tom Malloy who has raised more than $25 million practices in front of the mirror. That's right, he's an actor, yes, but he's also a writer, a film producer, and now he has directed his first film. All of that is due to his belief in himself.
Tom knows that you must be excited and passionate when you pitch. Your passion really should help you be exploding with high energy. You want to be able to answer any questions quickly, confidently, assuredly, and never say oh well that's not my job that's what the accountant does.
Your job is to know everything about the film. You should know the budget inside and out and be prepared to defend every line item. You should know everything about your team members be very proud of them and the prior work they have created. Everything is a matter of faith in yourself and in your film.
Convince Your Subconscious That You are Living Your Dream
Author Neville Goddard was one of the pioneers of the concept of The Law: "imagining creates reality." He says that to get your dreams to come true you must believe they already exist. You need to pretend that you are living the life you want.
Believe that you are the greatest film presenter in the world. You are getting checks hand over fist. Once you start visualizing this and "feeling" into this confidence and success then you want to imprint this on the subconscious.
The importance being that the subconscious mind runs the show. It believes everything that the conscious mind tells it. For a filmmaker that is wonderful.
Just imagine a story where you are pitching to high network individuals and rich donors and getting large checks. Take that believe and energy into bed with you at night. Start playing a film of your successful pitch and see checks being handed to you. Play this for the conscious mind while you are feeling like that is your current life. The conscious takes this to the subconscious and you shore up your confidence from inside.
What would your life be like if you were having a wonderful time raising money, it's easy for you, it's a joyful experience? Tapping into that energy and nightly giving it to the conscious mind as the current situation, you will get this imprinted in your subconscious and things will begin to happen for you.
Mantras for Your Mirror
Consider putting these mantras on the mirror so you see them every day.
I am perfect at pitching my film.
I love myself.
People know I am dedicated to my film.
People see me as a talented award-winning filmmaker
Put your faith in yourself and in your ability to make this film and achieve the aims that you have set out for yourself.
Your future is waiting for you.
Carole Dean is president and founder of From the Heart Productions; a 501(c)3 non-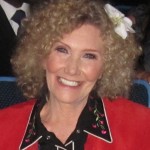 profit that offers the Roy W. Dean Film Grants and fiscal sponsorship for independent filmmakers. She hosts the weekly podcast, The Art of Film Funding, interviewing those involved in all aspects of indie film production. Her new class "How to Fund Your Film" is available on Vimeo on Demand. She is also the author of The Art of Film Funding, 2nd Edition: Alternative Financing Concepts. See IMDB for producing credits.