Our Roy W. Dean Grants are now in their 30th year. I've reviewed thousands of submissions and know what peaks a grantors interest and what turns them off
by Carole Dean
From the Heart Productions has been awarding grants since 1993 when we created our Roy W Dean Grants for unique films that make a contribution to society ( and I've been awarding them since 1992 before I founded From the Heart!). Since then, 72 very different and excellent films have won our grants. We are proud of the work that our filmmakers have done to achieve their goals and get their film funded, distributed, and seen by millions.
Grants are a wonderful way to fund your films as well build an audience. For filmmakers, there are more opportunities than ever before (we now offer 4 grants each year with the recent addition of our grant exclusively for short films). Winning a grant will give you film instant credibility with audiences, donors, and distributors. You can use it to publicize your film in press releases and on social media.
From the Heart Productions wants to help you in winning grants by sharing important suggestions on applying for grants. Everything here applies to our Roy W. Dean Grant. I feel that you will find it also applies to the majority of grants available.
First and foremost, put some passion in your proposal
I want to get as excited about your film as you are. Let the passion for your film jump off the page.
Please, at the beginning of your grant application, put the grantors criteria of the grant in a sentence with why your film fits it… I like to see that because it means to me that you carefully read the web site. And I want you to realize judges are usually reading a lot of grants at once so, remind them at the beginning exactly how your film fits the grantors criteria.
Use your creativity. Make it interesting and intelligent. Get out of the paragraph format if you can. Perhaps use bullet points, use color, use photos, use graphs, use pie charts. Use anything to break up the monotonous written page. Show me how artistic you are. Do this for anyone who will allow it. A picture is truly worth 1,000 words.
Share your outline for funding
Who else have you contacted for funding? Make a list of all grants you've applied for and those you intend to go after. I don't care how long it is, the longer the better. Include this to show that you are focused on grants and you know which ones are best for you.
How much have you raised? How much do you need? Where will you get it?
List how you intend to get the money to make your film and include this information in the grant application.
If it is a $200K budget, give us an outline of where the funds will come from.
Example:
$50K from 2 crowdfunding campaigns
$100K from individuals
$50K from strategic partners. Add how you will get them attached and how they will share our info with their mailing list. Explain all of this.
Then we know you know you can get the funds.
If this is for a feature, tell me how you will meet the HNI (high-net-worth individuals). Where will you go to find them?
Are you offering a 5% referral fee? I would not tell other people, but I would put those people in a special list as friends of friends who have money. Put a dollar mark you think you can collect that way.
Things we want to know:
List every way you will raise money for your feature film.
Now, tell me how you will get this film sold.
Where do you think it will play? Theatres or online? International? What countries? Online VOD? Drive-ins? Don't discount this, they are very popular now.
Who do you think will buy it? How much money do you think they'll pay you? If it is for distribution, what do you expect to get in return?
Does your film have international appeal? Have you found good international distribution? If so, you might want to mention this.
Are you going to the AFM (American Film Market)? Are you out meeting and entertaining HNI?
All of this we really need to know especially if you're going after a grant from us for a feature. Many people think features are a risky investment and we need some security. That must come from you in how you are raising your funding.
Crow about your crew members with confidence!
One of the things we look for in grants is your crew members. How experienced are they? What have they worked on? This is a major part of decision-making. Be sure to include any awards your crew has.
We want to know in a feature or webisode that that you are fully supported. Especially if you are an emerging filmmaker or have very little experience yourself, we look to see that you are supporting yourself with highly skilled technicians.
Tons of money has been given to people who never finished films. The number one consideration we have and number one question we ask ourselves is will he or she finish this film? The experience and track record of the crew gives us some indication as to whether they can complete a film (as well as how it will turn out). What is the number between one and 10, 10 being absolutely sure and one being not sure they will get funded? We often asked judges to give us this number value as it is important.
People who give us proposals and letters that use a qualifier about raising funds like "hope too" or about getting the film made say "I have always wanted to make a film" or "I really would like to make a film" are the ones who go to the "absolutely no" pile.
We want to hear your confidence in your paperwork, I'm making this film with or without you. If you want to join me terrific but if not, I'll see you at the Oscars. I want you to be that positive.
Tell us why you are making this film
One of the most important things that people often leave out is the answer to the most important question, why are you making this film? What is your connection to this film? Are you making a cancer film because your mother or loved one died of cancer? If so, tell us, because that means to us that you are totally committed and your chances of finishing the film are high because you are personally connected to it.
If you are making this film to get into the film industry because that's where you belong, bravo! Tell us. We want to know and that's a great valid reason to make a film. We love and respect your tenacity and your dedication.
Are you making this film to send a message? We like that too. If that is reason, why are you so passionate about this information? How has this information touched your own life and why do you want to devote five years to making the film?
Remember, we know that on average, documentaries take six years to make and two years to distribute. Think then of what the judges will say when you send us your proposal and you haven't raised a penny. Or you are not forthcoming with how you will raise the money or that you even know how to raise the money. This proposal would not get far up the ladder for a grant.
Show your commitment and connection to material
Grants are highly competitive today. Remember people giving grants are mostly not filmmakers. We highly respect you and we want to support you and we think you are the most creative people on earth. So, recognize the fact that we want to give you money. It's up to you to give us the right information in the strongest most self-confident assured way possible so that we can give you the grant.
Most grants have filmmakers for judges. We do as well, but there are many people who read your material before it reaches the final judges. Those people need to be totally impressed with your dedication, commitment, and your connection to the material. This is a key for us. What is your connection to the material?
I know this is a lot of information but judging grants is a very hard job. And I want to cover everything we are thinking and using to judge your film, so you know what's it is like from the judge's perspective.
Who is your audience?
My grant has marketing and I put a large percentage of decision-making on the marketing you state in the application. I want to know if you know who your audience is and to tell me succinctly.
Please, don't say everyone, that's ridiculous. Give me a composite of your audience. I want to know who they are, where they get their news, where they hang out online, what they want to see in your film and why. When I know that you know your audience, then you go to the top of the pile.
Use www.FromTheHeartProductions.com as a source of education on funding.
More resources for finding and winning grants
In my online class "How to Fund Your Film", I explain how to find your audience, create a believable budget, and to to find as well as capture those High Net Worth investors or donors.
My book, "The Art of Film Funding, 2nd edition: Alternative Financing Concepts" was written for documentaries, shorts, and feature producers for funding via grants, individual investments/donations, online crowdfunding, and distribution through streaming video.
We've got lots of free information on our website. See the resource tab that's a good place to start for information, look under the resource tab and research each of those links below as they are full of funding advice.
Under the Resource tab, you will find a comprehensive list of film grants
Under my blogs you will tips on "How to Find Strategic Partners for Your Films"
And on our page "How to Apply for the Roy W. Dean Grant", you will even find of video of me with advice on creating grant submissions for our grant
Guardian Angel Program
I find that the people that hire me to mentor them through my Guardian Angel Program and work with me on a weekly basis are the ones who have a clear concept of what they want to achieve and are most successful.
Normally at the beginning of the mentoring, we pick one thing that they want to achieve. That could be a film or that could be a book or that could be becoming the chair of the film Department or whatever you want to achieve.
We then create a plan on how to get there, we list what you need to do and create a to do list. You then make a commitment for what you want to achieve over that coming week, and we meet again and keep moving forward. If you don't have the funds to pay someone to do this, do you have a friend who might do this for you? Working with a mentor weekly will pay off for you.
Carole Dean is president and founder of From the Heart Productions; a 501(c)3 non-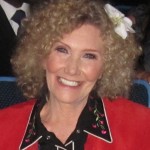 profit that offers the Roy W. Dean Film Grants and fiscal sponsorship for independent filmmakers. She hosts the weekly podcast, The Art of Film Funding, interviewing those involved in all aspects of indie film production. Her new class "How to Fund Your Film" is available on Vimeo on Demand. She is also the author of The Art of Film Funding, 2nd Edition: Alternative Financing Concepts. See IMDB for producing credits.