Carole Dean Interviews Art Neill on His New Legal Guide Book For Small Businesses Creative Professionals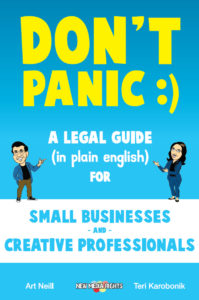 I interviewed Art Neill on my Art of Film Funding podcast about his brilliant book, Don't Panic : ) A Legal Guide (in plain English). Art works with New Media Rights which is a non-profit, independently funded program of California Western School of Law. They provide legal services, education, and public policy advocacy for creators, entrepreneurs, and internet users. They worked with Dianne Griffin and Erica Jordan who are fiscally sponsored by From the Heart for their successful film, Painted Nails.
New Media Rights is also offering From the Heart readers a special 20% off Don't Panic for a limited time. Use the code "by using this code "EHCBPZHD" at this special link to get a discounted copy.
I recommend the NewMediaRights.org website for information and I especially recommend this information packed book. Art and his team at New Media Rights are specialists in fair use and an excellent source for filmmakers. They have an APP that you can use for free that will interact with you on what is fair use and what is not. Plus, they take on fair use cases at a reasonable fee.
Art explained "transformation" of material saying that although it's not defined in the copyright law, transformation typically means to use or alter an original work, to provide new meaning to your message. The more you transform the original work to have a new voice message or meaning the more likely it is to be transformative and the more likely it is to be fair use. So, what does a transformation look like?" Here are a few samples:
Art Neill explained the Buffy versus Edward Twilight remix video by Jonathan McIntosh. "This is a particularly great example of fair use because McIntosh takes a series of very small clips from the entire Buffy the vampire slayer TV series and mashes it to gather with tiny bits of the twilight movie to create a new original story, changing the message of the original clips from stories about vampires to a cultural critique of gender roles in vampire pop culture."
"Pretty woman" by 2 live crew
"The rap group 2 Live Crew reused the guitar riff and some of the lyrics from Roy Orbison's Oh Pretty Woman to create a parody of the song. This particular parity is an excellent example of fair use not only because, as the court put it, 'juxtaposes the romantic musings of a man whose fantasy comes true, with degrading taunts, a bawdy demand for sex and a sigh of relief for parental responsibility,' but also because of the socio-economic and racial juxtaposition between the two songs.
Reusing something in a transformative way is critical to a finding of fair use! If your reuse is not transformative it is unlikely that you will be considered fair use unless all of the other factors are in your favor."
Information taken from Don't Panic:) sold on Amazon $14.99 or Kindle $9.99 or NewMediaRight.org
Carole Dean is president and founder of From the Heart Productions; a 501(c)3 non-profit that offers fiscal sponsorship for independent filmmakers. She hosts the weekly podcast, The Art of Film Funding, interviewing those involved in all aspects of indie film production. She is also the author of The Art of Film Funding, 2nd Edition: Alternative Financing Concepts. See IMDB for producing credits.