Documentary Brings Attention to Indigenous People Fighting a Multinational Corporation to Preserve Their Environment
From the Heart Productions, the top-rated non-profit dedicated to helping indie filmmakers get their films funded, has selected "Save the Wild Coast (Warship Off the Wild Coast)" as a winner of the Britt Penrod Award. This award goes to a project that was submitted to the Summer 2022 Roy W. Dean Film Grant, was named a finalist, and that makes an exceptional contribution to society. Director & Consultant Producer Quinton Fredericks and Executive Producer Gary Janks will receive a $500 cash prize that will help them continue their work on this project.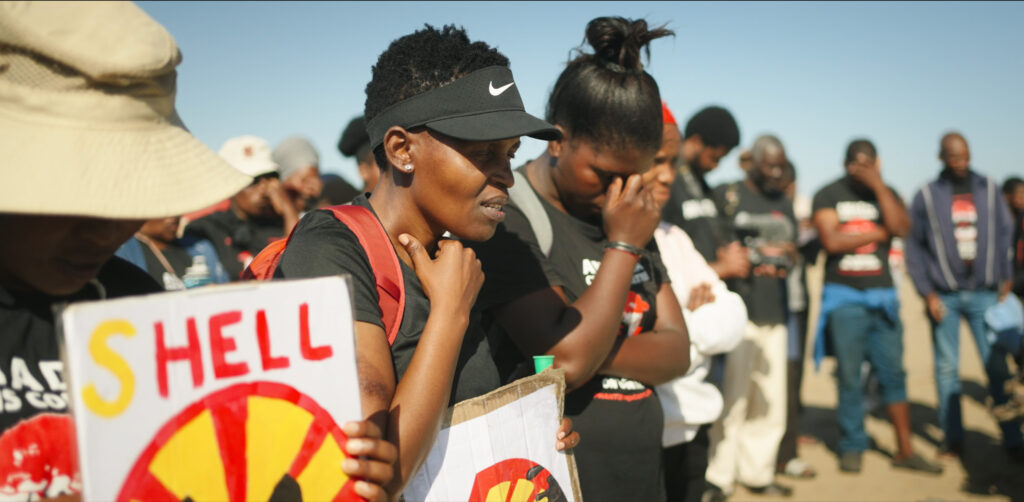 The battle to save the planet are being fought on many fronts," said Carole Dean, President of From the Heart Productions. "We thank Quinton and Gary for working to bring this amazing story to the public."
About "Save the Wild Coast (Warship Off the Wild Coast)"
For centuries, the amaMpondo have bravely resisted invaders, protecting their natural world along the South African Wild Coast, to maintain a culture of conservation, where nature is sacred.
This fight culminated in a David vs Goliath court case against oil giant Shell, where the indigenous community is succeeding in preserving their ocean connection and marine life from invasive deep-sea blasting by Shell, while seizing the world's attention.
About the Filmmakers
Gary Janks – Executive Producer Gary is a retired teacher, with a career spanning 35 years. For the last 7 years, he has worked as a producer/director. Credits include "Chasing Mandela's Rainbow" (2019) which was honored with 37 international film festival selections, 7 awards/nominations, including Best Documentary, Cinema At The Edge, L.A. USA, & TV broadcasts, UR (Sweden), Deutsche Welle – international single run in 4 languages (Germany),ShortsTV (USA) and e.tv (South Africa)
Quinton Fredericks – Director/Consulting Producer Quinton is an award-winning documentary filmmaker, writer, director, producer and writer. In 2007, he won a SAFTA for the best Educational Documentary Series covering 58 episodes of 24 minutes each for SABC. With a career in the film and television production industry spanning more than 20 years, he was extensively understanding of the policy and legislative environment as it pertains to the film and television sector having chaired the Working Group on Black economic Empowerment and Transformation under the auspices of then Cape Film Commission.
As a registered skills development facilitator, he pioneered some of the most comprehensive and innovative skills development programs for emerging and underprivileged filmmakers and producers.
About the Britt Penrod Award
The award will be presented to one or more finalists to one of our four yearly Roy W. Dean Grants whose film is unique and makes an exceptional contribution to society. The Britt Penrod Award was made possible by a donation from its namesake who is a longtime friend of 501(c)3 non-profit From the Heart Production. Results of the award have no bearing on the eventual winner of any of the Roy W. Dean Grants.
The Britt Penrod award for the 2022 Spring Grant went to Lunchbox from filmmaker Anne Hu. Winners for 2021 include the documentary 26 Seconds for the Roy W. Dean Film Grant for the Spring Grant, The Bridge Ministry which won for the Summer Grant, and Separation which won for the Fall Grant. The Fog Catcher won for the Roy W. Dean Short Film Grant.
About Britt Penrod
Britt is president of Giant Entertainment & Management Inc. (G.E.M.) is a Los Angeles based Film & Television Studio design and development company with in depth experience in the United States, Europe and Asia.
G.E.M. delivers knowledgeable business foundations to Studio development projects that include; Market Analysis, Site Planning, Operating Financial Evaluation, Construction, MEP & Value Engineering, Start-up of Operations and ongoing Management Services for stage-based entertainment properties.
About the Roy W. Dean Grant
Now in its 31st year, the Roy W. Dean Grant has awarded over $2,000,000 in cash and donated film services to independent films. The grant is awarded to films budgeted under $500,000 that are unique and that make a contribution to society. It has been an important lifeline for independent filmmakers that help to get their projects started or finished. Without assistance from the grant, many excellent and important films may never have been made.
Past winners of the grant include new Emmy Winners Belly of the Beast and The Love Bugs, 2019 Sundance Film Festival selection Raise Hell: The Life and Times of Molly Ivins, as well as acclaimed documentary Kusama-Infinity.
About From the Heart Productions
From The Heart Productions is a 501(c)3 non-profit dedicated to helping filmmakers get their projects funded and made. Besides providing funding through the grant, they offer film fiscal sponsorship to filmmakers. This allows donations made to films they sponsor to be tax deductible. From The Heart has helped independent filmmakers raise over $30 million through their fiscal sponsorship program. President Carole Dean is the best-selling author of The Art of Film Funding: 2nd Edition, Alternative Financing Concepts and the new online class How to Fund Your Film.
For More Information and interview requests, please contact:
Richard Kaufman
richard@fromtheheartproductions.com
www.fromtheheartproductions.com
For More Information and interview requests, please contact:
Richard Kaufman
richard@fromtheheartproductions.com