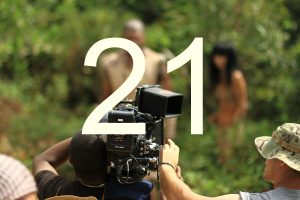 21 films that are unique and make a contribution to society were named as Roy W. Dean Grant Spring 2017 finalists. The grant is offered by From The Heart Productions, the non-profit dedicated to helping filmmakers get funding. The winner will receive $30,000 in a combination of cash and donated services from film industry professionals and companies which support independent filmmakers.
"We are very fortunate to have so many filmmakers exploring stories and ideas that look to change how we view our world." said Carole Dean, President of From the Heart Productions. "These finalists highlight the passion and dedication of the hundreds of applications we received."
A record number of 345 films were submitted to this year's Roy W. Dean Grant for Spring from across the US and around the world. Entries were received from France, Mexico, Australia, Japan, Canada, and the United Kingdom. The projects included features, short films, documentary, and web series.
View overview of project summaries and filmmakers for the Roy W. Dean Grant Spring 2017 Finalists which include:
American Justice on Trial: People v. Newton (Documentary)
Belly of the Beast (Documentary)
Bruce the Challenge (Feature)
Flight of the Dodo (Short)
Grace (Documentary)
Imagemakers (Documentary)
L (Feature)
Louder Than Thunder (Documentary)
Restoring Balance: Autism Recovery (Documentary)
Rising Up to Climate Change: Storytelling with Saris (Documentary)
Stoke (Feature)
Stranger At Home (Documentary)
Stunt Life (Documentary)
The Creative High (Documentary)
The Last Amendment (Documentary)
The Real Thing (Short)
The Roar of a Lion Cub (Documentary)
What If (Short)
Yellow is Forbidden (Documentary)
Yoshi: Wake Up With Me (Documentary)
Now in its 25th year, the Roy W. Dean Grant seeks films that are unique and make a contribution to society that need help getting started or completed. Out of this group of 21 Roy W. Dean Grant Spring 2017 finalists, a smaller group of 4 to 6 finalists will be selected by our judges. From that group will come the winner of the Roy W. Dean Grant. Winner is expected to be announced in late September.
This year's grant winner will receive $3,500 in cash provided by From the Heart Productions and donations of film services and products from film industry professionals and companies. Some of which include a 1TB G-Drive from G-Technology, a 30% discount in equipment rental from AbelCine Tech, Inc. NYC, 40% deduction on color, editing, and production services from ProMedia, and much more from heartfelt donors those who care about helping independent filmmakers.
About the Roy W. Dean Grant
Founded in 1992, there are 3 Roy W. Dean Grant every year. There is a Spring, Summer and Fall Grant. The Fall Grant is now accepting entries and closes September 30th. Films submitted to the grant can be short films, documentaries or features from early stages of pre-production to those needing help in post.
The grant is integral in helping talented artists with great stories get their films produced. Recent past winners of the grant include the award winning "Heist: Who Stole the American Dream", "The Brainwashing of My Dad", and Emmy winner "Mia: A Dancer's Journey" which just won an Emmy award.
About From The Heart Productions
The 501(c)3 non-profit was founded by Carole Dean when she saw how many filmmakers with important, new, and often controversial stories were having trouble getting financing for their films. From The Heart offers fiscal sponsorship for films which allows donors to get a tax deduction for their donations. Their Intentional Filmmaking Classes which teaches filmmakers the tactics on how to get funded is now open for enrollment. Classes start September 30th.