By a margin of just 31 votes out of more than 1,200 votes cast, director Ping-Wen Wang's short film "Christmas Dance" has won the 2nd Britt Penrod Audience Award for 2014.   7 indie film finalists for the Roy W. Dean Film Grant for Summer competed for the award with voting taking place on Facebook from Sept 12th to Oct 12th.  The winner's prize of $250 will help her complete production of her project.
Christmas Dance- Promotion Animation from Ping-Wen Wang on Vimeo.
The Britt Penrod Audience Award is open to finalists for the Roy W. Dean Grant.  Seven out of the 22 finalists for the Summer Grant competed by posting trailers for their films on Britt Penrod Audience Award App on the Roy W. Dean Grant Facebook page.  Registered users of Facebook including film fans and followers of the artist and grant can then view and vote on their favorite.
"It feels great," Ping-Wen said upon learning she had won, "and the award is truly for my Taiwanese and LMU family and friends. With their support we are able to continue and building upon our dream."
What does she plan on doing with her prize money?
"This is the first money we've raised for the film. We plan on pooling it with the rest of the funds we raise to help pay our crew who will, for the most part, be working for credit and meals."
Projects that were up for the award included short films, documentaries, and features. As with all submissions to the grant, the projects are all works in various states of production.  They all adhere to the goal of the grant which is to fund unique films that make a contribution to society.
"It is a great opportunity for the talented artists applying for the grant to have their works in progress exposed to a wide audience", commented Carole Dean president of From The Heart Productions which oversees the Roy W. Dean Grant.  "These are important projects that need to be seen and supported."
About Christmas Dance
Christmas Dance is a 15-minute short fiction film about a lonely old woman suffering from Alzheimer's who enters a dream world and meets her long lost family and friends on Christmas Eve. She must relive her most important memories with her daughter and let go of all her regrets before she forgets everything. The 15-min short film, currently in pre-production, is a PingWen's graduate thesis project for Loyola Marymount University.
Christmas Dance is a personal journey inside an Alzheimer's patient's mind. Because the disease causes her to no longer remember who she is, her mind fights tirelessly to hold on to her memories. She enters a dream world where she can be herself and share one final dance with her daughter.
By telling a touching story between a mother and daughter, Wang attempts to draw public attention to the disease as well as comfort and honor Alzheimer's patients and their families. While most films about Alzheimer's tend to show the sadness and the cruel nature of the disease, Wang wants to bring hope to those involved. As Ella Chen, granddaughter to an Alzheimer's patient, states in The Long Goodbye, "I don't know how much my grandmother can remember, but I think they're all the happiest memories".
Now, crowdfunding on indiegogo, you can check out the campaign for the film and contribute at  https://www.indiegogo.com/projects/christmas-dance
You can also learn more about the film on their Facebook page at  https://www.facebook.com/christmasdancefilm or on the film's website at  http://christmasdancefilm.com/
About Director Ping-Wen Wang
A female director hailing from Taiwan, Ping-Wen Wang is dedicated to telling LGBT and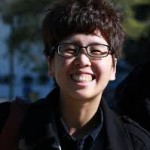 women's stories through the power of cinema.  Wang's first short "The Clown" won the Jury Award in the International Student Film Festival Hollywood, was nominated at Film Outside the Frame (FOF), and screened on Public TV in Taiwan. Her latest work "Between Us" is an official selection of the Palm Springs International ShortFest, Boston LGBT Film Festival, Barcelona International Gay&Lesbian Film Festival, Hong Kong International Gay&Lesbian Film Festival, Taiwan International Queer Film Festival and won the Special Prize of Excellence at the Screwdriver International Short Film Contest in Taiwan.
About the Britt Penrod Audience Award
Founded this year, the Britt Penrod Audience Award is a $250 prize awarded to a finalist of the Roy W. Dean Grant with the best trailer.  It is only open to finalists for the Roy W. Dean Grant.   Results of the award have no bearing on the grant, but give the contestants an opportunity to increase awareness of their project.
The award's namesake, Britt Penrod, has been a good friend and longtime supporter of the Roy W. Dean Grant.  When Britt made a very generous, sizable personal donation to Grant, it was put it to use in the creation of the award.
About the Roy W. Dean Grant
Now in its 23rd year, the Roy W. Dean Grant is awarded 3 times each year to films that are unique and make a contribution to society that, without its help, might otherwise never get made.  Films submitted to the grant can be short films, documentaries or features from early stages of pre-production to those needing help in post.
The grant has given out over $2 million in a combination of cash, goods, and production service discounts from industry donors to date.  It has been integral in making sure that talented artists with great stories get their films produced.  Recent past winners of the grant that have been completed include the award winning "Heist: Who Stole the American Dream" and "The Winding Stream: An Oral History of the Carter and Cash Family" which is now showing in film festivals around North America.
About From The Heart Productions
From The Heart Productions, which oversees the Roy W. Dean Grant and the Britt Penrod Award, is a 501(c)3 non-profit dedicated to helping filmmakers get their projects made.  Besides providing funding through the grant, they are also a fiscal sponsor which allows donations made to films they sponsor to be tax deductible.  From The Heart has raised over $1.3 million for crowdfunding films as a partner with Indiegogo.  President Carole Dean is the best-selling author of "The Art of Film Funding" which is now in its second edition.