When Jacqui Frost asked DP's what they wanted out of their directors, they all had the same answer
by Carole Dean
In my ongoing search for educational information for filmmakers, I recently interviewed Jacqui Frost who is a full professor in the Department of Cinema and Television Arts at California State Fullerton. Jacqui has taught cinematography, documentary production, advanced motion picture production, the language of film and many other production courses. She's been a producer and cinematographer for over 30 years.
She is also the author of Cinematography for Directors: A Guide for Creative Collaboration. She joined me on my The Art of Film Funding Podcast and I was impressed with her knowledge of filmmaking and cinematography. While writing this book, she interviewed our top cinematographers. She asked each one what they want their directors to bring them to understand the vision of their film.
It was amazing that all the cinematographers said the same answer, "they want their directors to be prepared." Basically, the cinematographer wants to know what the director intends to say with this film and how they want to say it.
A Picture is Worth an Incredible Scene
She shared with me that Spike Lee would get prints of films and project them in a screening room. He would take the cinematographer to the theater and show the film while pointing out what he wanted in a visual style and a visual look.
Sometimes director's use fine arts photography to communicate a particular look with the cinematographer. She said that if you look at a Dorothea Lange photograph, you can find a still from the film Grapes of Wrath that will match. In fact, you would think they were stills from the same photographer. Road to Perdition was photographed by Conrad Hall for Sam Mendes and he used the artist Edward Hopper as a reference.
John Seale worked with Peter Weir on Witness. Before they began filming, Peter took his DP to the museum, and they looked at Vermeer paintings. Peter told him, "I want the light to come from the left like that." John said, "I can do that." Think back in your mind and see if you can remember the scene in the film where the boy is looking into a glass cabinet of pictures. He then points out the killer who is a man pictured inside the glass cabinet in the police station. That's a pivotal moment in the film and the lighting in the scene was just like the lighting in the Vermeer painting.
Some directors want high contrast in their images, so they go to Georges de La Tour, a French Baroque painter, for the candlelight low-key source. They also use Rembrandt who is often on the directors list. Some like Andrew Wyatt for a realistic look.
Matching the Director's Vision
This is what cinematographers want their directors do, to clearly show them the look of the film. They want them to show them the color and the emotion they want to emit from the audience. They want directors to use things that they can visually connect with like movies or paintings or still photography.
Jackie says when a director of photography reads a script, they have a lot of notes for their first meeting with the director. They want to impart to the director their vision for the film. Then, during discussions, the cinematographer will sit and listen to what the director says before he shares what he saw as the vision for the film. Then the cinematographer knows if he's got the vision right or not.
Secret of a Good Relationship
Most directors have a team. It's not just the director of photography it's usually the cameraman and the assistant cameraman. These three usually work together.
Jackie said that not every director knows everything about cinematography. There are some cinematographers who would prefer a director to focus on their vision and deal with the actors. These directors often let the cinematographer choose the lenses. Jacqui thinks directors should know what the different lenses are and what they can do.
The secret to a great relationship between the director of photography and the director of the film is good communication. These two should be collaborating to create the director's vision.
Making a Connection
I asked Jacqui, "How do you choose a cinematographer?" Is there a list of questions you can give us? How do you make the decision that this is the person you want to work with?
Jackie said first look at their reels. If that reel speaks to you visually, you may want to talk to them. Then you can determine if you believe you can connect with them as a person. She says the conversation should be, "I want to have this theme in the film. So, how can we create that visually and represent my vision on the screen through your cinematography?"
Jackie says that directors should know about lenses because they are a storytelling tool. You need to know what a long lens gives you versus what a wide angle gives you. You need to ask this question; do we want to focus on the actors or the actors and the scenery?
Creating a Mood with Color
I love to talk about the color palette of the film. This is one of the most powerful storytelling devices that the cinematographer has because humans are so emotionally affected by color. With color films, you can set a mood quickly with the right color. This is when your cinematographer becomes a genius with lighting. And of course, they get help from the color correction artist who comes in during post and your set director.
The director might say I see the color palette in this scene for this character to be slightly desaturated because their world is kind of grim. I might want a strong color and much more saturation when you go to the memory that he shares with another person.
You want to use that when you create your look book. That gives the cinematographer an idea of what you want to do. Jackie says you may want your production designer in your conversation about color and what the color scheme will be. Perhaps it's blue and orange like you see in Michael Mann's films or very dark and soft lighting like you see in David Fincher. There are different ways you can go with creating a mood with your color. You can see each character perhaps having a different color palette.
Jacqui Frost knows her films and her filmmaking. I highly recommend this incredible book. It will certainly teach you how to communicate with your cinemaphotographer. Please also check out her newest book Conversations with Contemporary Cinematographers: The Eye Behind the Lens now available on Amazon.
Carole Dean is president and founder of From the Heart Productions; a 501(c)3 non-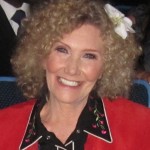 profit that offers the Roy W. Dean Film Grants and fiscal sponsorship for independent filmmakers. She hosts the weekly podcast, The Art of Film Funding, interviewing those involved in all aspects of indie film production. Her new class "How to Fund Your Film" is available on Vimeo on Demand. She is also the author of The Art of Film Funding, 2nd Edition: Alternative Financing Concepts. See IMDB for producing credits.