It starts by rewiring our money programming, removing money blocks, and igniting your money super powers
by Carole Dean
With over 35 years of vast experience in the corporate, government and entrepreneur sector, Olympia Hostler loves her work helping ambitious women who want to work less, make more, and live free. Her "Mind Over Money Makeover" program is designed to help high-achieving women realize their wealth potential.
"Once women ignite their money super powers, wealth shows up in a steady flow and in more ways than they could have imagined," she told me when she was a guest on my The Art of Film Funding Podcast.
She shared with me the secrets and methods she gives her clients to help them create wealth and thrive by changing their money mindset.
It's Not Enough to Will It
She was quick to say that using will power or brute force does not work. Change has to happen at the source to get the results and wealth you want. The source of "money blocks" is our internal programming and usually that is imparted on us by our well-meaning parents, friends, family and the media. We often take on what they believe.
Another change she adds that we must make is removing old conditioning that we did to ourselves. When we have certain experiences and we draw conclusions and we make rules, that becomes our conditioning that we put on ourselves. And most of us adopted our parents' beliefs, thoughts and habits, because, it is a primal instinct. The question is, are these conditionings working for you?
Unblocking Your Money Beliefs
Olympia says that money blocks come from a money programming process. It is the programming we get from our parents, authority figures, society, media and friends. This programming becomes a self-sabotaging virus and affects all areas of our life. This feeds into having false beliefs, limiting decisions, unprocessed fears and faulty conclusions.
These limiting beliefs exist on three levels of our being; our body, mind, and heart. You must shift all three of these back to your "factory settings" to transform your well-being, your health and your wealth.
Resetting Your Programming
"This is where you undo the years of dangerous programming and get to be yourself again."
She says we need to realize that the mind controls our behavior, thoughts and emotions. That the heart is responsible for love, gratitude, receiving, connection and support, compassion and community with other people. That the body holds stuck emotions, traumas, stress and fear that affect our physical health.
"You remember that deep person inside who is full of joy, hope and love, that person for whom things come easily and naturally for sustainable wild wealth. It's when the magic comes back to you and wealth shows up in your life in big ways and in ways that you could never have imagined."
Changing the Scarcity Mentality
Money myths are lies that Olympia believes our scarcity mentality feeds us and we accept as true. It's your scarcity mindset that is your self-sabotaging, inner programming that is holding you back and keeping you small.
She explains that its our scarcity programming that feeds us & we accept scarcity as truth. We think that there will never be enough whether it is success or money. This keeps us stuck and holds us back from living our lives on purpose with passion. It stops us from sharing our gifts with the world and other people who depend on receiving our gifts to fulfill their purpose.
They are the basis for thinking and behavior that makes us say NO to a lot of opportunities and not even recognize some opportunities. We also say YES to things that do NOT serve us, keep us busy and distracted from our greatness.
Meditation
Another way Olympia advises that we change our thinking is through meditation, aerobic exercise, and novelty.
"Meditation is super important to keep us mentally, emotionally and physically clear; relieve stress; improve our health; receive guidance; regulate our nervous system and so many more countless benefits.
"In meditative states, we go into our theta brainwaves which lowers stress and anxiety levels, as well as facilitates healing and growth. Meditation is a single pointed focus, you can do it while walking, and at any time. You are most productive when focusing on one thing.
"For best results – it is imperative that we prioritize goals and tasks – then do them one by one. We are so much more efficient, productive, happy and healthy that way. Twenty minutes is the ideal meditation.
"Novelty is learning and experiencing new things as well as doing the same things differently or changing your habits."
Being a BFF with Money
Olympia teaches, "You can change your relationship with money to be your BFF. In my online course, I call this section 'For the Love of Money'. Changing your relationship with money begins with believing it's possible."
What actions, thoughts, fears, … are standing in the way of being BFFs with money? Olympia suggests asking yourself if you knew you would succeed beyond your wildest dreams, what would you do, be, or have? If you knew you could not fail, what would you be, do or have?
Would it be what you are doing now? Something different?
She advises to give yourself permission to be wealthy right now. Commitment starts the snowball.
Carole Dean is president and founder of From the Heart Productions; a 501(c)3 non-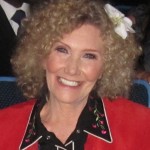 profit that offers the Roy W. Dean Film Grants and fiscal sponsorship for independent filmmakers. She hosts the weekly podcast, The Art of Film Funding, interviewing those involved in all aspects of indie film production. She is also the author of The Art of Film Funding, 2nd Edition: Alternative Financing Concepts. See IMDB for producing credits.