The Art of Film Funding: Alternative Financing Concepts: Second Edition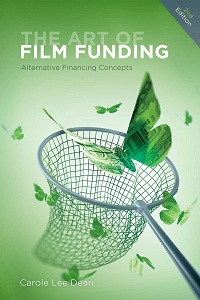 Buy the book From The Heart Productions order page book by November 1, 2012, you will receive a 50% discount on a one hour consultation with the author. Just email caroleedean@att.net after you place the order to schedule an appointment.
The Art of Film Funding has 12 new chapters and has been completely rewritten. It contains ways to raise money and how to prevent over spending in areas like music rights, fair use, insurance, and the other traps out there for filmmakers.
About the Author: Carole Dean runs From the Heart Productions, one of the most popular nonprofit granting organizations in the country. For twenty years, she has been reading documentary proposals, feature outlines, watching trailers and working as a consultant for filmmakers.
She is executive producer for Women Behind the Lens, BAM 6.6, Step Away from the Stone and American Chain Gang. Her expertise is in knowing what investors/funders want. In this book she gives you
Detailed information on how to improve your pitch
How to create a visual description of your film
How to find donors/investors and to finance your film
"Dean has years of experience both as a producer and a funder and her new second edition is full of nuts-and-bolts information from both sides of the fence, told in a conversational and heart-felt manner. A great new addition to the filmmaker's lexicon." — Morrie Warshawski, consultant and author of Shaking the Money Tree
TABLE OF CONTENTS
Chapter 1 COMMIT OR BE COMMITTED
Secrets to Success
The Journey
The Power of Sound and Words
A Conversation with Filmmaker Xackery Irving
Chapter 2 THE PERFECT PITCH
Visually Describe Your Film
A Sticky Story Pitch
The Winning Pitch by John McKeel
Know Who's Who
Become the Film
The Wind-up and Delivery

Perfecting Your Pitch
Chapter 3 THE PROPOSAL
Tips from a Grantor
More Information to Include
Understanding Proposal Writing
Proposal Outline
Log Line Examples
Log Line Construction by Rodney Vance
Introduction/Synopsis
Approach, Structure & Style
Theme, Audience Marketing & Budget
Chapter 4 FROM AN IDEA TO A TRAILER

Opening Your Bank Account
Fiscal Sponsor Benefits Docs & Features
Mailing Lists
What's in it for me?
Money to Make the Trailer
Development Money
Chapter 5 BUILDING THE FOUNDATION FOR
FUNDRAISING TRAILERS:

A conversation with story consultant Fernanda Rossi
Filmmaking is a Collaborative Art
List Your Top 10 Scenes to Start Your Trailer Edit
Chapter 6 CREATING YOUR TRAILER
By Bill Woolery, Editor of ET and The Usual Suspects
Tricks to Trailer Editing
Fundraising Trailers – Things to Consider
Different Types of Trailers
Three Act Structure
Music for Trailers
Chapter 7 LOADING THE BASES


Rules of the Game
There's no Crying in Baseball
Scouting the Majors: Researching Funders
Organizing Your Search
Chapter 8 WINNING THE MIND GAME
Releasing a Potential
First Law in Manifesting
Daydreaming is in!
Chapter 9 THE FEATURE FILM GAME
With Actor, Producer, Writer Tom Malloy of BANKROLL
Closing the Deal
Finding Vested Investors
First Money in Bonus
Using the 5 Percent Consulting Fee
Tips on Financing
Make Films
Two Page Synopsis for Feature films
Chapter 10 THE ROAR OF CROWD FUNDING
Interview with Danea Ringelmann, a Co Founder of IndieGoGo
Crowd Funding for Cash
Tips for Success
Average Contributions
Crowd Funding for Features
Creating a successful campaign Outlined by Carole Dean
Networking
Money
Crowdfunding Trailer
Are You Ready to Receive?
Launch Date Check List
Chapter 11 INTERNET MARKETING
Interview with Peter Broderick on "Hybrid Distribution"
Creating a Distribution Strategy
Distribution Pitfalls
Theatrical Distribution
Digital Revenue
Internet Distribution Tips
Chapter 12 RAISING FUNDS FROM INDIVIDUALS AND BUSINESSES

Raising Funds from Individuals
Popping the Big Question
Funding Parties, Instant Cash
Funding Extravaganza Outline
Your Fundraising Toolbox
Chapter 13 ARCHIVAL FOOTAGE
A conversation with Archivist Rosemary Rotondi
Personal experiences
Saving Money With an Archivist
Archival Footage for Low Budgets
Chapter 14 FOUNDATIONS & GRANTS
Fiscal Sponsorship
Finding the Grantor to Match Your Film
Contacting Your Potential Grantor
Chapter 15 TENACITY PAYS OFF: Interview with
Jilann Spitzmiller of Philomath Films
ITVS Grant Winning Tips
Winning Sundance Grants
BBC License Fees
ITVS Winning Documentary Proposal
Chapter 16 TRANSMEDIA PROPOSAL
By Sara Marmoorie & Jesse Deeter (Who Killed the Electric Car?)
Chapter 17 MUSIC LICENSES & PERMITS
By Maureen Ryan, author Producer to Producer
Plan for Success
Creating a Music Soundtrack
What Rights Do You need?
Putting in the License Request
Music Rights Request Letter Format
Negotiating the Music Rights
Most Favored Nation
Chapter 18 FINANCING INDEPENDENT FILMS:
A conversation with Entertainment Attorney Mark Litwak
Financing Features
Releases & Copyright
Private Placement Memorandums (PPM)
Gap Financing
Benefits of an LLC
Independent Film Financing by Mark Litwak
Chapter 19 DISTRIBUTION
What Distributors want by David Vasile, Pres. of Dazzle Entertainment
When to Contact a Distributor?
Electronic Film Marketing
The Value of a Trailer
Documentary Distribution
Self Distribution
Working with ITVS & PBS
Chapter 20 THE MONEY MAZE OF PUBLIC FUNDING:
Working with ITVS & PBS
Producing for Public Broadcasting (PBS)
American Public Television (APT)
ITVS
Independent Lens
WNET and Wide Angle
Arthur Dong
Chapter 21 MISSION, VISION AND VALUES:
A Conversation with Morrie Warshawski
Five Year Projections
Creating a Mission statement
Proposal for a Documentary
Testing Your Film Idea
Donations from Small Businesses
Rasing Money from Corporations
Chapter 22 BUDGETS by Norman Berns
The Problem
The Crux of it All
The Bridge Collapses
You're in Charge of Your Film
Stars. Props. Locations. Action. Talent. Schedules.
The Cost of Things
Budgeting Programs are Financial Management Tools
Chapter 23 LEGAL
FILM FINANCING By Hal (Corky) Kessler

Conditional Pay or Play
Funding Sources
Chain of Title
CONTRACTS & RELEASES by Paige Gold
Contract Basics
Coproduction Deals
What to Look for in Contracts
Chapter 24 STRETCHING PRODUCTION DOLLARS THROUGH FAIR USE
By Michael C. Donaldson
Fair Use can save production dollars
The U.S. Copyright Act
One Plaintiff – 3 Cases – Same result
The Grateful Dead Breaking New Ground
One outline
Safe Harbor
Insurance to the Rescue
Chapter 25 INSURANCE by Kent Hamilton

General Liability
Workers Compensation
Errors & Omissions
Production Package
Chapter 26 LIGHTS, CAMERA, ACTION!
Studio and lighting information with Britt Penrod, Vice President of Business
Development Raleigh Film and Television Studios
Economic Incentives for Productions
Negotiating with a Studio for Stage and Lights
Saving Money on Stage and Lighting Rentals
Camera Equipment Advice with Maia Kaufman, AbelCine Tech
Camera Trends
Economical Cameras
Savings on Rental Costs
Student Discounts & Training
APPENDIX
Production Resources for Public Television
Internet Search Tools
Databases, Resources & Tools
Organizations
Funders
Production List