Feature length film about a piano factory owner who faces the loss of his factory and potential family separation.
From the Heart Productions, a top-rated non-profit that supports independent
filmmakers creating unique films that make a contribution to society, has awarded its Carole Joyce Award for Excellence in Documentary Storytelling to "Pianoman."
The $2,500 award goes to a documentary film selected as a finalist to the Roy W. Dean Film Grant. "Pianoman" was an entry to the Roy W. Dean Grant for Spring 2023. Producer/Director/Editor/ Sound Mixer and Cinematographer Sunny Liu will use the additional funding to continue to work on her project and make her film available to the public.
"Sunny is a brilliant filmmaker," said Carole Dean, President of From the Heart Productions. "She has shown exceptional talent as storyteller as well as a filmmaker in accomplishing with such skill so many roles in this production."
About the Film
"Pianoman" weaves a captivating and deeply personal tale of an undocumented family navigating a path filled with hardships that resonate on both an individual and universal level. The film illuminates social issues through its sensitive cinema verité style, exploring themes of justice and resilience beyond mere trauma. Viewers are taken on an emotional journey, experiencing raw pain intertwined with poignant tenderness.
This heartfelt portrayal strikes a chord, prompting an examination of the human experience and fostering empathy for marginalized communities. "Pianoman" invites contemplation on social justice, inequality, and the indomitable spirit of resilience, inspiring a call to action for a more inclusive world.
The dedicated team behind the film passionately believes that the story of David Avendaño will deeply resonate with audiences, encouraging them to find reflections of their own lives within the narrative. The film appeals to those interested in civil rights, social justice, immigration issues, the power of music, or the artistry of piano making.
Crafting "Pianoman" proved transformative for the team, clarifying their beliefs and values. They feel fortunate to have documented David's family, as his story mirrors their own experiences, evoking a profound sense of unity and shared strength. Through this film, they aspire to forge connections and inspire individuals on similar journeys.
Click here to watch a trailer.
About the Filmmaker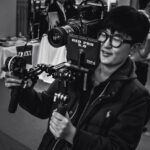 Sunny Liu – Director / Producer / Cinematographer / Editor and Sound Mixer – Sunny is a highly accomplished and acclaimed creative force, recognized as an award-winning filmmaker, pianist/composer, and animator. Her work amplifies the voices of the underrepresented through intimate storytelling. Based in New York, Sunny excels as a producer, director, cinematographer, editor, and production sound mixer.
With a prestigious educational background, Sunny holds a Bachelor's degree from Emerson College in Boston, a Master's in Music from The New School in New York City, and a second Master's in Documentary Filmmaking from the School of Visual Arts, also located in New York City. Her diverse skill set pushes the boundaries of her craft.
Sunny's talent has garnered widespread recognition, with her animated film, "Calling," making a lasting impression at the Doc NYC Film Festival. Her debut feature film, "Pianoman," was selected for The China Academy Awards of Documentary Film and won Best Feature Documentary Film at Nepal American International Film Festival. Sunny Liu's fearless dedication continues to inspire and touch the hearts of audiences worldwide.
Contact info:
Email: Sunnyliusunny@yahoo.com
Instagram: https://www.instagram.com/pianomanfilm
About the Roy W. Dean Grant
Since its inception in 1992, the Roy W. Dean Grants have awarded over $2,000,000 in cash and donated film services to independent films.
There are four Roy W. Dean Grants awarded each year. They have been an important lifeline for independent filmmakers that need help getting their projects started or finished. Without assistance from the grant, many excellent and important films may never have been made.
Past winners of the grant include the Emmy winning Mia: A Dancer's Journey, 2019 Sundance Film Festival selection Raise Hell: The Life and Times of Molly Ivins, Emmy winner and Peabody Award nominee Belly of the Beast, as well as the acclaimed documentary Kusama-Infinity.
About From the Heart Productions
From The Heart Productions is a 501(c)3 non-profit dedicated to helping filmmakers get their projects funded and made. They have been chosen a top non-profit for eight years in a row by greatnonprofits.org. Besides providing funding through the grant, they offer a unique film sponsorship program which has helped filmmakers raise over $30 million for their projects. The program offers personal consultations and guidance on finding funding their project.
President Carole Dean, is a published writer, a producer, and instructor for two essential classes for indie filmmakers. She wrote the best-selling The Art of Film Funding: 2nd Edition, Alternative Financing Concepts. Her Intentional Filmmaking Class teaches film funding and her new class, Learn Producing, teaches filmmakers the fundamentals needed to get their productions completed.
For More Information, please contact:
Richard Kaufman
richard@fromtheheartproductions.com
www.fromtheheartproductions.com