The Redford Center is one of the only non-profits in the U.S. dedicated solely to environmental impact filmmaking.
by Carole Dean
I had the opportunity to interview Heather Fipps from the Redford Center for The Art of Film Funding Podcast. Heather was an amazing guest and this was one of the most important interviews we've done on the show.
I wanted to share some of the highlights from the interview, and let you know the incredible work the Redford Center is doing to support filmmakers making films about protecting the environment.
The Redford Center has been instrumental in driving the environmental movement for almost two decades. It was co-founded in 2005 by Robert Redford, and his son James Redford. It is a non-profit organization that advances environmental solutions and promotes awareness through filmmaking and storytelling. It's one of the only non-profits in the U.S. dedicated solely to environmental impact filmmaking.
As the Program Manager at the Redford Center, Heather cultivates opportunities for environmental filmmakers, produces impact media projects and campaigns. She is also a filmmaker and producer of multi-platform stories. She is the co-founder of the Hollywood Climate Summit, an annual conference for cross-sector creative industries to build a coalition of climate conscious storytellers. It is supported by Netflix, Paramount, NBC Universal, and more. We were very fortunate to have her as a guest!
An environmental middle school program
The Redford Center has supported over 150 film and media projects with grants and other services. All in all, they have dispersed more than $12,000,000 to support environmental film projects. They have produced three award-winning feature documentaries and more than 40 short films. Their Youth Stories Program, an environmental curriculum aimed at middle school classrooms, has led to the creation of more than 550 student films.
Heather gave some insight into the environmental films and projects The Redford Center is supporting.
"The Redford Center has funded stories of people doing work to care for our earth, change the way that we live, show our relationship and connection with nature, participate in community activism, advocacy, and really take up action, in moments where it can feel like we're overwhelmed and there's nothing we can do."
Redford Center has two grants for environmental stories.
"We're telling stories of people who are doing something and who are centering and prioritizing the impact that these stories can have," explained Heather. "So, we are not only telling the story, but pushing out resources, and connecting with organizations who are doing this work daily.
"We are advancing and shifting the conversation to an attitude of we still have work to do, we're in it, and we're building resiliency and courage to face the many diverse environmental crises that we are facing worldwide."
She went on to explain that The Redford Center tries to focus on stories that are going to advance the conversation to people who may not feel invited into the conversation yet.
There is perhaps no more important issue facing our planet today than our environment. With film being such an important medium for advancing environmental protection and action, many filmmakers in this field are faced with a surprising lack of resources and support.
Heather shared that "we have found in our landscape mapping a stark gap of funding for environmental films, particularly independent environmental filmmakers. There are only eight grants available globally that are regularly available for filmmakers telling environmental stories specifically.
"The Redford Center provides two of those eight grants. Whereas at the Redford Center, that is explicitly what we support consistently… these are the stories that we need to help us make sense of our rapidly changing world, give us hope and solutions and resilience in this time of rapid change that we're going to need to undergo together."
Impossible Town was funded by both From the Heart Productions and The Redford Center
Impossible Town, one of our Roy W. Dean Grant winners, was also a recipient of a Redford Center grant. The film, by filmmakers Meg Griffiths and Scott Ferris, documents toxic contamination threatening a community which leads to an outbreak of cancer, and the efforts to relocate and seek justice for the citizens of this town. The Redford Center not only provided funding for the film but continued to stay in touch and support the film throughout its development.
Heather describes The Redford Center Grants program as "a two-year program where the film projects that we support have an opportunity to let us know how they're doing in their first year, what their impact goals are, and what it will take for their film to reach the finish line.
"And we're so thrilled to support them with second year funding, which is something that we do through our grants program. We funded (Impossible Town) in 2020 and 2021. We are in very good touch with our filmmakers. We've also had the chance to write some articles about the film and their story."
Bringing filmmakers together to share information and resources.
This is what truly sets the Redford Center apart. Not only do they support the underrepresented niche of environmental filmmakers, but go above and beyond to create a community of support.
"We're trying to build community," Heather clarified, "and not just with the capacity that we have on our staff, but really bring filmmakers together to connect with one another, and be cohorts and mentors to each other."
The Redford Center Grants program supports documentary, feature films, and docuseries. It runs on a two-year cycle. They do not have an open call this year but will have one next year.
You can visit their website and subscribe to their newsletter at www.redfordcenter.org to get the first announcement of when the next open call begins. The grant supports projects for up to two years. The first award is a gift of $20,000 toward the project, with several different bespoke in-kind services they offer.
She described how they "plan a grantee story summit where we invite all of our grantees to come and meet with our Redford Center advisors, which is an advisory board of just incredible filmmaking and climate and environmental experts who coach these filmmakers on tools for success for their project and provide them with different levels of resources."
At these summits, they also check in with grant winners from the previous years to see where their films are –at and what their impact goals are, and to potentially give them additional funding, sometimes in a substantially greater amount.
Short filmmaker grants and opportunities to pitch to audiences and professionals.
The Redford Center also offers a second, unique grant for short films. It is a pitch opportunity and a professional development opportunity called, Nature Connection Pitch. This consists of a gift of support for the films, but mostly an exposure and professional development opportunity for the filmmakers.
They get to pitch their short film ideas to an audience and a panel of professional groups that are interested in supporting their short films. And who also might provide additional resources for them or hopefully development opportunities for them, or distribution.
This year, participants received awards of $5,000 for their films. Last year had a competitive format where the winning team received an award of $25,000. What a wonderful program!
Learn more about the Redford Center
I thanked Heather for taking the time to share all the remarkable resources they have for environmental filmmakers. This interview was so rich, and what I've shared here is just the beginning. I will very likely put out another blog to cover all the resources and insights that Heather shared.
You can learn more about the Redford Center, their grants, and all the wonderful resources, events, and programs they offer for environmental filmmakers at www.redfordcenter.org. You can listen to the full interview on BlogTalkRadio here. It is also available on iTunes, Stitcher, and Goodpods.
From the Heart thanks Heather and the Redford Center for all of the work they have done to support film and to protect our precious environment!
You can listen to the full podcast here:
The Art of Film Funding Podcast is available on iTunes, Stitcher, Goodpods, and Blogtalkradio
Carole Dean is president and founder of From the Heart Productions; a 501(c)3 non-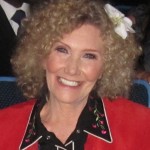 profit that offers the Roy W. Dean Film Grants and fiscal sponsorship for independent filmmakers.
She is creator and instructor of Learn Producing: The Ultimate Course for Indie Film Production. 26 classes which will teach indie filmmakers how to produce their films.
She hosts the weekly podcast, The Art of Film Funding, interviewing those involved in all aspects of indie film production. She is also the author of The Art of Film Funding, 2nd Edition: Alternative Financing Concepts. See IMDB for producing credits