courtesy of Kathie Fong Yoneda
author of THE SCRIPT-SELLING GAME (2nd edition)
When queried by an editor, agent, producer, novelist  or exec, the experienced writer can usually summarize his/her project in just one or two sentences.  Encapsulating the essence of your story is creating a logline, a fast, effective, attention-getting selling tool for your book, movie, tv or web series project.
The easiest and most successful method I've used with my clients to create a logline is by starting off with a short simple sentence, then having them building upon it.
Here is an example using the film AVATAR:
Marine gets new assignment.— We know the main character is a Marine
Paraplegic Marine is sent to foreign moon on assignment. — We now know the Marine is a paraplegic and that the story takes place on a foreign moon.
Paraplegic Marine in an Avatar body is sent to a foreign moon to infiltrate a colony of aliens. — We learn that he'll be encountering alien life and to he will be using an Avatar body to accomplish his mission, but we need to know what that mission is.
Paraplegic Marine in an Avatar body  is sent to a foreign moon to infiltrate a colony of aliens who pose a threat to Earth. — This version now tells us that the aliens could be a threat to Earth.
Paraplegic Marine in an Avatar body is sent to a foreign moon to infiltrate a colony of aliens who pose a threat to Earth, but eventually questions his mission. — The additional wording lets us know that our hero faces a moral challenge and that there is more to his assignment than initially realized. We just need to know why he questions his assignment and what will be at stake.
LOGLINE:  Paraplegic Marine in an Avatar body is dispatched to a foreign moon to infiltrate a colony of aliens who pose a threat to Earth, only to question his mission when he realizes he is being used to extract a valuable energy source  which will result in destroying the aliens and their peaceful world. — In this final version, we now have a compelling story as the hero realizes his initial assignment is bogus and that he will ultimately need to make a difficult decision as he faces a crucial crisis of consciousness by story's end.
You will note that each successive version gains more importance and gives us:
*         a better understanding of the character,
*         knowledge about his goal
*         what challenges he will face.
From a simple sentence, use colorful, descriptive adjectives, active verbs and creative restructuring of the logline to obtain more flow, intensity and interest which will hook and entice the person hearing or reading your project.
If your project is a TV or web series, here is an example of the "simple sentence" approach for the TV show, THE MENTALIST:
Former psychic gets job at investigative bureau.
Fraudulent psychic helps the California Investigative Bureau to solve crimes.
Fraudulent psychic helps the California Investigative Bureau to help solve crimes, but has a hidden agenda of his own.
LOGLINE:  In this investigative drama series, an admittedly fraudulent psychic joins the California Investigative Bureau, using his keen observation skills and deep insights into human behavior to help the bureau solve crimes — hoping one day to ultimately solve the murders of his late wife and daughter, victims of a serial killer.
Here are three other popular film examples in different genres which started out with a simple sentence and became the following loglines:
MAMMA MIA Hotel owner prepares for daughter's wedding
LOGLINE: In this musical-comedy, the owner of a small hotel on a Greek isle prepares for her daughter's wedding, unaware that her daughter has invited three men from her mother's past, hoping that one of them is her father and will walk her down the aisle.
THE BEST EXOTIC MARIGOLD HOTEL Retirees go to India
LOGLINE:  A group of British retirees are lured to India to live in what they believe is a newly restored hotel, only to discover it is far less luxurious than they thought. But as they are forced to settle in, they slowly allow the Marigold Hotel, its staff and the culture of India to charm them in the most unexpected ways.
THE KING'S SPEECH Prince is forced to become king
LOGLINE: Following the death of his father and the scandalous abdication of his brother Edward, Prince George VI, who suffers from a debilitating speech impediment, is forced to overcome his handicap to become King with the help of his wife and an unorthodox speech therapist.
Kathie can be reached at: kathie@kathiefongyoneda.com. Copies of THE SCRIPT-SELLING GAME can be purchased at a 25% discount at:  mwp.com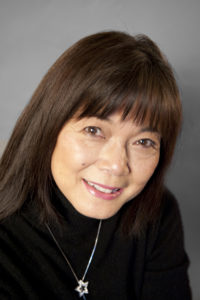 Kathie Fong Yoneda is a consultant specializing in development and marketing of live action and animated film, television, literary, and web projects. A former exec at Disney, Island Pictures, and Disney TV Animation, she has taught workshops worldwide. A partial list of clientele includes Singapore Media Academy, RAI-TV Roma, National Film School of Denmark, Women in Film/Television Atlanta, University of Hawaii, Romance Writers of America, Smithsonian Institute, Scriptfest, Royal Melbourne Institute of Technology, Digital Media Academy Jakarta, and the Marseille, Melbourne, Roma and LA web festivals as well as several award-winning writers. Kathie is a popular jurist and panelist for many film festivals and screenwriting competitions and serves on the boards of Imago and the LAWEBFEST. She is the author of The Script-Selling Game and co-exec produced the series Beyond The Break.