by Carole Dean
In the world of filmmaking, the journey from concept to the silver screen is a complex and multifaceted process. One critical aspect that often determines a film's success and reach is its funding and distribution strategy. In a captivating interview on the Art of Film Funding podcast, Skye Bergman, an accomplished photographer, and director, delves into the intricacies of her directorial debut, "Lives Well Lived," while sharing her insights into securing funding, navigating distribution channels, and connecting with audiences. This article offers a detailed exploration of Bergman's interview, shedding light on her experiences, strategies, and valuable lessons for aspiring filmmakers.
The Genesis of a Documentary
Sky Bergman's journey into filmmaking began with a personal passion project inspired by her grandmother's remarkable life. The seed for her documentary, Lives Well Lived, was planted during a series about her grandmother's cooking called "Kachina Nana." Bergman's desire to portray aging in a positive light led her to interview 40 individuals aged 75 and older, amassing a collective life experience of 3000 years. This diverse group became the cornerstone of her film, serving as role models for vibrant and fulfilling lives in the later years.
Crafting the Narrative
One of the most intriguing aspects of Bergman's approach was her meticulous crafting of interview questions. Drawing upon her academic background, Bergman engaged with experts in social sciences, honing her questions to capture authentic and diverse perspectives on aging. Through a montage of interviewees, even those not prominently featured, she seamlessly wove a tapestry of shared experiences, resulting in a rich and comprehensive narrative.
A Festival Premiere and Distribution
Premiering at the Santa Barbara International Film Festival, "Lives Well Lived" gained initial recognition and momentum. However, Bergman's journey did not end there. Her strategic decision to partner with Ken Isen, a distributor and festival programmer, played a pivotal role in the film's theatrical release. By retaining control over specific rights, including community and educational screenings, Bergman empowered herself to generate income for future projects while maintaining her artistic vision.
The Power of Community Screenings
Bergman's advocacy for community and educational screenings proved instrumental in extending the film's impact. Leveraging relationships and networks, she secured a plethora of screenings, engaging diverse audiences and sparking discussions around aging and living life to the fullest. Her creative strategy of offering sponsorships to organizations lacking funds showcased her resourcefulness and commitment to spreading her film's message. If the nonprofit wanted to screen the film she gave them the time and opportunity to find sponsors and then promoted both in the screening.
Nurturing Relationships and Expanding Reach
Bergman's success underscores the significance of nurturing relationships within the film industry. Her proactive approach to attending conferences and engaging with potential partners not only secured screenings but also facilitated valuable connections. By showcasing teasers and behind-the-scenes insights, she generated enthusiasm and anticipation for her film, enabling her to broaden her network of supporters. This way she made sales of the film to convention attendees and created virtual screenings that were sometimes priced with her or without her.
Navigating Distribution Channels
Skye Bergman's journey into the world of distribution was marked by strategic choices and a deep understanding of her target audience. Partnering with PBS Plus provided her film with a broader reach, while her engagement with PBS distribution facilitated various platforms, including Amazon and iTunes. Bergman's insightful negotiation, where she retained certain rights for community and educational screenings, demonstrated her commitment to both financial sustainability and meaningful engagement. She did not put her film on PBS for three years during which she was able to use the lucrative virtual distribution window for many screenings.
Crafting Successful Underwriting
Bergman's approach to securing underwriting for her film involved more than mere solicitation. By identifying synergies between her project and potential sponsors, she forged meaningful partnerships that went beyond financial contributions. Bergman's research into similar films and reaching out to like-minded filmmakers served as a blueprint for identifying potential sponsors and underwriters. She reached out to filmmakers with similar films, and they shared beneficial information willingly.
Skye Bergman's podcast interview unveils a treasure trove of insights into the world of film funding and distribution. Her journey, from a personal passion project to a nationally recognized documentary, serves as a beacon of inspiration for filmmakers navigating the complexities of bringing their creations to a global audience. Through strategic networking, community engagement, and a deep understanding of her audience, Bergman's story is a testament to the power of perseverance, creativity, and a genuine connection with the stories we tell on the big screen.
You can listen to the full interview here:
Carole Dean is president and founder of From the Heart Productions; a 501(c)3 non-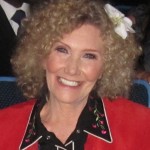 profit that offers the Roy W. Dean Film Grants and fiscal sponsorship for independent filmmakers.
She is creator and instructor of Learn Producing: The Ultimate Course for Indie Film Production. 26 classes which will teach indie filmmakers how to produce their films.
She hosts the weekly podcast, The Art of Film Funding, interviewing those involved in all aspects of indie film production. She is also the author of The Art of Film Funding, 2nd Edition: Alternative Financing Concepts. See IMDB for producing credits