by Diane Estelle Vicari
2001 is a year to remember. My first co-directed and produced independent feature film opened theatrically. SUGIHARA: Conspiracy of Kindness is the story of Japanese Consul General Chiune Sempo Sugihara, who during World War II saved the lives of thousands against his government's orders. I was finally going to share this inspiring story of how "one man can make a difference" with a live audience. That is, until I received an invitation from scoring and recording mixer Tommy Vicari.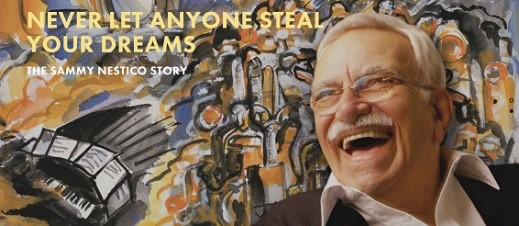 Tommy invited me to visit the famous Hollywood Capitol Records recording studios and to document a five-day recording session. I would "bear witness," he said, "to history in the making."
Being a one-woman band with a scheduling conflict on the same week of my Première, I kindly declined the offer. Tommy kept insisting — which was so uncharacteristic of him — until he eventually broke down my resistance. I agreed to hire a crew of four camera operators, direct them on the first day, and then leave them to continue filming, so that I could attend my special date with my audience.
As long as I live, I will never forget witnessing through my viewfinder, as this Geppetto-like figure walked up to his podium. The energy of the room immediately shifted. I watched the musicians straightening themselves in their chairs, as if a four-star general had entered the room. Then, Maestro Sammy Nestico gave the down beat.
I had been around music since I was a child, playing the piano for seven years, attending weekly rehearsals and performances of my Grand-Maman Estelle's choir at church, being always a step behind the fanfare during parades, and of course having been married to a recording and scoring engineer for nearly twenty-five years. None of it prepared me for the moment when Sammy Nestico's music began to play.
I was awestruck and overcome with a sense of pure joy and wonderment at this humble man, who was yet a force to be reckoned with. This tangible magic continued to fill the studio for days and I was moved to keep filming.
What I experienced during these five days; the world had to see. I missed my own opening night in order to capture the enchantment.
On that day, our twenty years journey together began. I entered his world and committed to making a documentary film about his life story but mostly to share his message to: "Never Let anyone steal your dreams."
Sammy passed away January of this year, one month short of his 97th birthday, As his wife Shirley entered the painful process of letting go, she invited me to come to their home to see if there was any items I may need for the film. At one point, I noticed his ties collection, which she had prepared for a donation.
At the age of 16, this first-born son of Italian immigrant began wearing ties so that he could be considered a "serious" musician. He began his collection of ties, and that tradition continued throughout his life. He often wore them only once, and purchased another for a new occasion! I asked Shirley if I could keep this collection.
For Sammy's 86 Birthday and his 4th Grammy nomination, jewelry designer Pepi©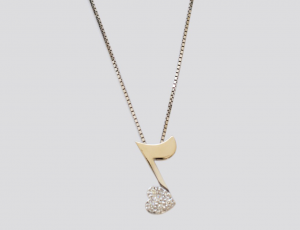 exclusively created "Sammy's Love Note©."
After sharing this story with her, she suggested we bring back his "Love Note" pin and offer it with a collectible tie.
For a $179.00 donation towards the completion of the film, you will receive "Sammy's Love Note©" and choose one of Sammy's collectible tie.
Please click on this link that follows to make a selection.
https://www.sammynesticofilm.com/rewards/1dof5en3ox3gt3sebg1h97pbe6d8cb
I am privileged to be the messenger of this world-renowned musical legacy and one of our National Treasure, Maestro Sammy Nestico.