Roy W. Dean Grant Summer 2014 Finalists
Since 1992, From the Heart Productions has supported filmmakers with cash and substantial professional discounts from our film industry partners, averaging an estimated $30,000 per filmmaker. The Roy W. Dean grants program, with several annual deadlines, has grown into one of the most sought after competitions in the world.
Its Roy W. Dean Grant funds unique films that make a contribution to society. It gives filmmakers with great stories, told with passion, the funding to get their projects started or completed.
Roy W. Dean 2015 Spring Grants are now being accepted! Deadline: April 30th

Summer 2014 Finalists
*Winner is highlighted in gold. Top 5 finalists are highlighted in red.
| | | | | |
| --- | --- | --- | --- | --- |
| | Film Name | Type | Filmmaker | Description |
| | 5 Women: 4 Seasons | Doc | Molly Kreuzman | Five courageous young women live primitively in the Oregon Cascade Mountains and emerge a year later unexpectedly and powerfully transformed. |
| | A Holy Rascal Goes to a Death Cafe | Doc | Cathy Zheutlin | Jack meets old man death and dances from fear to acceptance; four terminally ill people face death with courage, love and humor. |
| | A Photographic Memory | Doc | Rachel Elizabeth Seed | A young photographer strives to find the mother she never knew, and subsequently herself, through tracking down iconic photographers her late mother interviewed decades before. |
| | America's Blues | Doc | Patrick Branson | America's Blues is the story of the impact that Blues Music has had on our society, our culture, and the entertainment industry |
| | Banner on the Moon | Doc | Renee Sotile | A college instructor challenges herself to become the first female to climb Mount Everest and finish the Iditarod — all while fighting a rare fatal disease. |
| | Chair(s) | Short | Jon Stout | A man brings in a chair from the street and it starts doing strange things. As he ponders this new stranger in his life, he comes to terms with his own dark past. |
| | Christmas Dance | Short | Ping-Wen Wang | A lonely old woman with Alzheimer's enters a dream world, where she has one last chance to reconcile with her daughter before she forgets everything. |
| | Copper | Doc | AJ Oscarson | Copper explores how people balance addiction with survival, and the way Denver's street economies function when drugs and scrap metal serve as acceptable currency. |
| | Dead in the Water | Doc | David Wittkowner | Dead in the Water is about the extinction of the fishing industry in America and how its effecting a city that relies on it. |
| | Generation Zapped | Doc | Sabine EL Gemayel/Carolyn Chen | Two moms expose the chilling facts about the hazards of wireless radiation on the next generation. |
| | Heel | Doc | Ruth Villatoro | Boys on probation in a secured facility foster "unadoptable" rescued dogs. A story of second chances as the dogs teach the boys about forgiveness and love while the boys teach the dogs the domestic skills to be adopted. |
| | In Search Of America: Inshallah | Short | Danish Renzu | A dependent Pakistani housewife comes to America to find her husband but is instead forced to find her emancipation |
| | Inside Peace | Doc | Cynthia Fitzpatrick | Hardened criminals, plagued by a lifetime of violence, addiction and bad choices, find their way to the Peace Class in a Texas jail where they struggle to change, discover their humanity and try to beat the odds, as they put their lives back together from the inside out. |
| | Living with Coyote | Doc | Priya Shelly | A story of the American West's on going battle with the coyote, one of the most hated predators in the nation. |
| | Lone Man's Land | Doc | Ezra Gentle | Cowboys, the Oklahoma Panhandle, and how the west was undone. |
| | Look Like Laury, Sounds Like Laury | Doc | Pamela Hogan | What would you do if you started to disappear? The poignant, sometimes funny of the year the unthinkable happened to NYC actress Laury Sacks. |
| | Not the Same: Families after War | Doc | Stephanie Howard | Life will never be the same for families of wounded vets coming home from Iraq and Afghanistan. |
| | Preserving Paradise | Doc | Paul Stoutenburgh | The story of a team's journey to find solutions to the deforestation of tropical rain forests |
| | The First Lady of Burlesque | Doc | Craig Jackson | A story about aging, identity and second changes, this documentary confronts our societal fears of growing old while following an 80-year-old burlesque icon, Miss April March. |
| | The Real Trial of the 20th Century | Doc | Robert Richter | Documentary focuses on the sensationalized murder trial of Black Panther Party Co-Founder Huey Newton in the volatile summer of 1968. |
| | The Zodiac Dater | FF | Natasha Paris | When an author's astrology-obsessed fiancée dumps him for being skeptical of her passion, he writes a book teaching guys how to beat the astrological system, but faces unexpected disastrous consequences. |
| | Two Sisters | Short | Sandra Oh | The harrowing story of two North Korean sisters' perilous journey as they attempt to defect to South Korea. |
2014 Summer Grant Winner!
A Photographic Memory
By Elizabeth Rachel Seed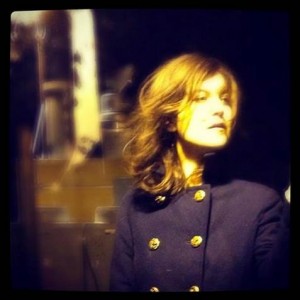 Thirty years after her mother, Sheila Turner-Seed's, death, photographer Rachel Elizabeth Seed discovers her work—interviews with some of the greatest photographers of the 20th Century, including Henri Cartier-Bresson, Lisette Model and W. Eugene Smith—in her father's garage. When she threads the audio reels and presses play, she hears her mother's voice for the first time since she was a baby. Rachel finds it familiar and comforting, and is transformed by the experience. Wanting to know more about her mother and to revitalize and honor her work, Rachel revisits the photographers, as well as her mother's friends and family, to learn who she was while also looking at how photography can help preserve memory and reconnect us with those we have lost. Through this process, Rachel reconnects to her mother by discovering how much they have in common: their looks, ambition, career paths, and desire to settle down and have a family. However, in order to move on with her own life, Rachel comes to realize she must set herself apart from Sheila, and to do that must find out if she has the same genetic predisposition to early death that took her mother's life. Rachel's ability to forge her own path hinges on these medical results.
Roy W. Dean Grant – Summer Film Grant Winners
2014 – Rachel Elizabeth Seed for A Photographic Memory
2013 – Jason Grant Smith for I Voted? – A Non-Partisan Documentary
2012 – Alicia Brauns for The Mosaic of Life
2011 – Leslie Neale for Unlikely Friends
2010 – Sara Maamouri & Jesse Deeter for Burned
2009 – Lori Miller for Shakespeare High
2008 – Karin Mak for Red Dust
2007 – Chelo Alavarez for Sold in America