Guardian Angel Program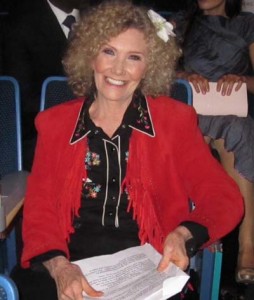 In the 70's, I had an idea for a business.  I was going to buy film left over from production and resell it.  Everyone thought I was crazy.
No one thought anyone would buy that film.  I disagreed.  So, I took $20.00 bill from the family grocery fund and bought some film.
Over 20 years, I grew that $20.00 into a $9 million dollar a year company with offices in New York, Chicago and LA.  I was selling to Cassevettes, Corman, and helped give birth to an independent film renaissance that might not have happened if my less expensive film had not been available.
By the time I sold in 2001 to devote my time to From The Heart Productions and the Roy W. Dean Grant, it was one of the largest woman owned private business in the country.
b
Working with Carole Dean of From the Heart is inspiring, informative, practical – I have made so much progress on my documentary!
Corinne McAfee
Get Experienced Support for You and Your Project
It was fun, exciting, and I wouldn't have changed anything I did.  But, it would have been nice to have someone around, someone guiding me, to tell me I was not crazy, to not to get discouraged, and how to reach goals I'd set for myself.
During the time I owned Studio Film & Tape, I produced over 100 HeathStyles Shows which were sold to Oasis Cable and 30 Filmmaker shows, now in the National Archives. I created the Roy W. Dean film grants in 1992 in honor of my father and have given over 2 million dollars in donations since then and worked with thousands of filmmakers in consultations and seminars.
I have executive produced Women Behind the Camera, BAM 6.6, American Chain Gang and Step Away From the Stone and I have an Associate Producer credit on many films.
Each year I review close to 500 films and trailers from my film grants and filmmakers who hire me. Making films is a long process, from research through release can take years. Many times filmmakers get discouraged or stalled and never complete the film or they finish it and then can't get it released.
It's sad but true that many films are never seen. Why? There are many reasons but one main problem is finances. Most filmmakers need to support themselves while they make their films; they can't quit their day jobs and do the writing, hiring, filming and raise the money for the film. They have to make time around their work and family to create the film.
Carole Dean is a true friend to filmmakers. She not only offers constructive advice, but has a special knack of boosting confidence. I always have a new sense of motivation and ideas after talking to her.
Renee Sotile
This can be done with the filmmaker's total dedication. And it can be much easier when you work with someone on a weekly basis. You outline what you want to achieve each week and then discuss the achievements or problems, solve them and keep moving forward through each step of the process.
In today's world you need to distribute your film while you are making it. Understanding how to find your niche markets and creating partners for your doc and audiences for your feature's release are just as important as making the film and you need to do these together.
Carole is such an amazing resource for filmmakers. Smart, wise, intuitive and a superb cheerleader, we are lucky to have her. With Gratitude!
CM Hardt
Help is Just a Phone Call or an Email Away
If you are interested in applying for the Guardian Angel Program you should and set up a time to discuss your film and your goals. I will review your materials and give you a free 30 minute consultation. Then we can decide if I can help you create your film.
I keep my price low. We talk once a week for at least 45 minutes and during the week we communicate when you are under a deadline. My fee for the full month is that of a normal consultation in this industry, $300.00. Payments are made to From the Heart and are tax deductible. Email if you are interested,  or call 805 984 0098 to speak to me.
Testimonials:
I met Carole Dean about a year ago with nothing more than my notes, my passion and my profound desire to do my first Documentary. I remember she encouraged me and guided me through every single step in order to accomplish my project.
Every time someone asks me how are you doing this? I always respond: It is not just me I have a wonderful Angel who is by my side at all times, guiding me, supporting me and pushing me no matter what happens she is always helping me to keep my focus on things that really matter.
I'm so grateful I found her and now we are working together, like she said: " is all about the journey". Carole has a tremendous wisdom, faith in you and persistence to keep you going. Be prepared because she will take you on a wonderful journey.
Natalia Berry, filmmaker
I found Carole' to truly be the guardian angel for my film. Her knowledge has been the difference in getting this film made. By changing areas in the script from her suggestions has made all the difference to the clarity and flow of the story.
D'Nell Bingham
If you are looking for someone who will guide you through the
experience of filmmaking she is the right choice. She has been as
excited about the process and I have been and taking an interest
in my goals and dreams for my life and helping them to come
true.
Karen McCann