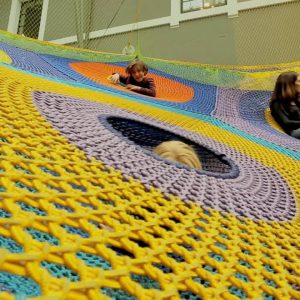 With interstitial narration written and performed by Barbara Kingsolver, Yarn profiles several yarn artists from several countries. We hear from and see the work of yarn graffiti artists, installation artists, and circus performers. In addition to a great variety of art work, we hear quite a variety of personalities speaking of their lives and art.
In addition to yarn graffiti, we are treated to a yarn-covered train; a yarn-covered mermaid swimming with dolphins, a dog, and two cinematographers; a giant net in and around which children play; and many more yarn-enshrouded objects.
The Kino Lorber documentary is directed by Una Lorenzen, and co-directed Thordur Jonsson and Heather Millard. The film is well crafted, features perfectly fitting music, and has a great little bonus feature of yarn animation.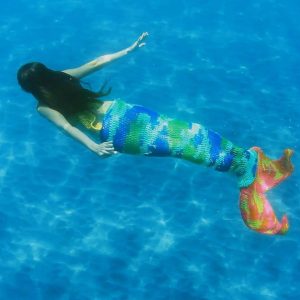 You have two websites to chose from: http://www.yarnfilm.com/ or http://yarnthemovie.com/