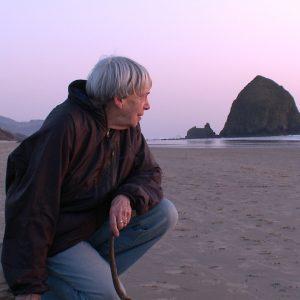 "I want to see science fiction step over the old walls, and head writing over to the next wall, and start to break it down, too."
Written and directed by Arwen Curry, Worlds of Ursula K. Le Guin tells the prolific writer's life story in an amazingly short 68 minutes. The 'Worlds' in the film's title refers both to the many worlds Le Guin created in her stories, and the world she created for herself and her family.
Although Le Guin (October 21, 1929 – January 22, 2018) is well-noted for her legacy of fantasy novels, the film makes it clear that her lifetime of non-stop writing expanded beyond that genre—as did her worldview. She broke down 'the old walls' many times, and brought countless writers along with her. Indeed, it is fair to say Le Guin is literally a legendary writer—in the year 2000, she was pronounced a 'Living Legend' by the U.S. Library of Congress.
Beyond her public legacy, I was astounded to learn of Le Guin's second life as wife and mother. She raised three children, and lived 65 years of stable marriage with husband Charles Le Guin.
Worlds of Ursula K. Le Guin was produced with the author's participation over a ten-year period. It is distributed by American Masters. The film received at least seven festival awards, and was an official selection of several other festivals.
Arwen Curry has brought to vivid life an artist whose name you may not have even heard of, but who you will now know forever.
Ursula K. Le Guin website  (see upper right-hand corner of the home page, and click on Dragons Enter Here)