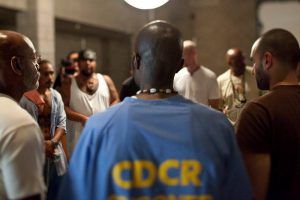 "So, let's remember Don, he talked about the intent. Right there, next to the wound, right there, next to the pain. When we go deep, when we go down to the bottom, right there next to where we hurt the most is where our medicine is at. Let's remember that." Group Therapy Participant at Folsom Prison
Thirty miles north east of Sacramento, California, in an area called Represa, lies the legendary maximum security Folsom State Prison. Inside the prison is another prison called New Folsom Prison where inmates participate in weekly group therapy as part of an overall rehabilitation program. Twice a year, with prison approval, members of the public are invited to join inmates for four days of intensive group therapy.
Directors Jairus McLeary and Gethin Aldous cover one of these four-day programs in their documentary, The Work. McLeary and Aldous capture gut-wrenching moments of human beings delving into the genesis of their inner wounding.
This is as must-see a movie as a must-see movie can get.
Yes, the movie is about a progressive state-run program that is garnering positive results. It is also about you and me. If you are not deeply moved by experiencing the work done in The Work, you simply haven't seen the movie.
The Work premiers online on Topic.com on June 5.
Instagram