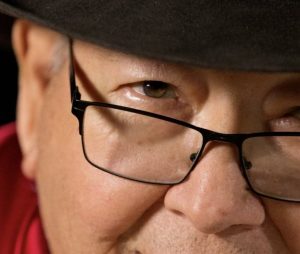 "My grandmother was a storyteller. She knew her way around words. She never learned to read or write, but somehow she knew the good in reading and writing. She'd learned how to listen and delight. She had learned that in words and language—and there only—she could have whole and consummate being.
"You see for her, words were medicine. They were magic and invisible. They came from nothing into sound and meaning. They were beyond price—they could be neither bought nor sold. And she never threw words away. She told me stories, and she taught me how to listen. I was a child, and I listened."
N. Scott Momaday
Produced and directed by Jeffrey Palmer, Words from a Bear celebrates the work and accomplishments of Native American
N. Scott Momaday, Kiowa Poet, Writer, Painter, and Professor. The film is an episode of the PBS American Masters series.
For yours truly, and likely for many readers of this review, Momaday is a discovery. He is a multi-dimensional human being, and Palmer has produced a rich, multi-dimensional film that well deserves a wide audience.
In the film, Momaday tells his own story, recites selections from his novels and poems—and via his filmmakers, weaves Native American stories, myths, history, culture, photographic and animated visuals, and exquisite music by Aska into his personal story—ultimately addressing existential issues of origin and identity.
Amongst the celebrities celebrating Momaday's work and life are Beau Bridges, Jeff Bridges, Robert Redford, and James Earl Jones.
Like the film's subject himself, Words from a Bear is quietly powerful—and a film that quickly became one of my all-time favorite documentaries.
Words from a Bear is available via Shop PBS.