That documentary films are a hard-sell is common knowledge. Add films about death and dying, well, you're in Sisyphus land. That's where you'll find filmmakers Amy Browne, Jeremy Kaplan, Tony Hale, and Brian Wilson, the co-directors of A Will for the Woods.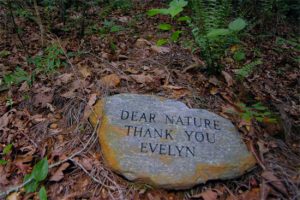 Sex and violence. They're no longer censored. Death and dying, still is. The problem is that films about death and dying are not just about those topics, they are about the viewer's demise. The Bell Tolls for Thee.
There are many noble people, however, who ignore the censor, and a few of us humans make ourselves vulnerable to their stories and teachings about death and dying – including the good folks at First Run Features who are distributing this powerful film about Clark Wang's dying, memorial, and burial.
Clark Wang was a psychiatrist who contracted cancer and struggled mightily to recover. In addition to that struggle he made a decision about his inevitable burial, a decision that was new to me, a decision I want to tell you about in the chance it's also new to you: Green Burial or Natural Burial.
Instead of being embalmed, cast in a metal casket, and placed in a mostly clear-cut cemetery, one's body is treated only with natural substances, is placed only in natural, biodegradable containers, buried either in wooded lands or open fields, and allowed to return to the earth. This is a growing movement, and another of its benefits is the conservation of land and trees.
One of Clark Wang's wishes was to promote this environmentally healthy practice; and he and his loved ones agreed to be on-camera during many of the painful moments associated with his death, dying, memorial, and burial.
Yes, there is much pain and sorrow in this film, but there is much more love.
Ignore the censor, your censor, see this film.
The film's website includes links to further educate about green burial. The link is above.
http://awillforthewoods.com/