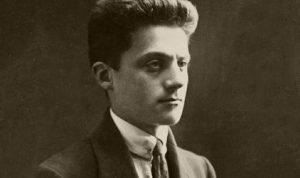 "You're cut off from the whole world. You can't go to school. You can't make a living. So, writing becomes the only recourse to feel a sense of ownership of one's self." Interviewee
Within a two-week period I have received, viewed, and now reviewed two documentary films on the Holocaust in Poland. Having seen and learned from both films, I understand why.
The pre-Holocaust population of Polish Jews was 3 million, the largest Jewish community in Europe. The German war machine wiped out this thriving, peaceful community. The statistics regarding the number of survivors vary. Suffice it to say, that amount is small. One wonders what quality of life survivors would have experienced.
Written, produced, and directed by Roberta Grossman, Who Will Write Our History answers the title's question quickly: Emanuel Ringelblum—along with a team of people.
Grossman's film tells two stories: The Holocaust in Poland, and Ringelblum's gathering of a team of people who, prior to the decimation of Warsaw, collected and recorded as many aspects of Jewish life in Poland as possible. The team created three secret archives. Together they are called the Oyneg Shabes Archives. Following the war, a herculean effort unearthed the first two archives. The third is rumored to be buried underneath China's embassy in Warsaw.
Who Will Write Our History is a stunning, masterfully produced film. Grossman weaves interviews, narration, voice-over readings of Ringelblum's writings, elaborate reenactments, archival material, and, of course, images to tell this horrific story—and the heroic efforts of a small group of people to memorialize the prewar community of Jews in Poland.
(Pictured: Emanuel Ringelblum)