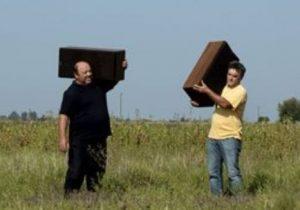 Set in the plain of Thessaly is the farming village of Elias with a total population of 33 elderly people. The young people have left, the economy has tanked.
This is the world filmmaker Marianna Economou inhabits for 72 minutes in her When Tomatoes Met Wagner. Alexander and Christos are our principle characters. They are frequently seen and heard speaking, sometimes in the middle of a field, debating which music to play for the tomatoes through the field's loudspeakers. The ambitious, college-educated Alexander is their apparent leader.
The village is responding to their dire circumstances by producing and selling food products to an international market. The challenge is how to do so in a radically transformed world.
I am charmed and enchanted by When Tomatoes Met Wagner. I did not want the film to end. Borrowing a phrase from Tevye, if I was a rich man, I would rush to visit Elias.
The current website for the film is its Facebook page. To learn about screenings, see the page's 'About' section.