WeDidIt – Film Fundraising Platform
Exclusively For Our Fiscally Sponsored Filmmakers
From the Heart Productions has partnered with WeDidIt to create a new film fundraising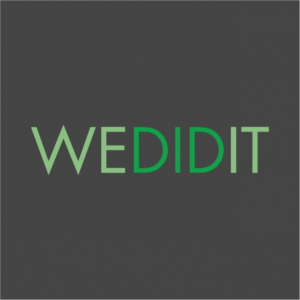 platform designed to make it easier for our fiscally sponsored filmmakers to raise money.
As a non-profit dedicated to helping indie filmmakers fund their films, we've always been obsessed finding new ways to help them reach their funding goals. From the Heart Productions pioneered film crowdfunding with Indiegogo. We developed a fundraising platform with Network for Good. We expanded our fiscal sponsorship program to include education as well as free classes on film funding.
From the Heart Productions is the first to offer the WeDidIt platform for fundraising for both Narrative Features, Documentaries, Short Films, and Web Series.
Advantages of Using WeDidIt
It gives fiscally sponsored filmmakers incredible fundraising tools that are not available together in other platforms.
Customizable Campaigns – Easily display your campaign goal, video call-to-action, amount raised, and promotional content all from one page.
Amazing Donation Pages – The donation pages are scientifically designed to increase conversions. Capture donations faster and easier by minimizing the amount of time it takes your donors to check out. Acknowledge donations by automatically sending them a tax receipt.
Peer-to-Peer Fundraising – Let your supporters, friends, and family fundraise for you. They can easily create their own personalized fundraising campaign and share it with their friends and family. Peer-to-peer campaigns help you raise more money and reach new supporters without any extra staff. Having friends and family sending your info to their contacts to donate to your project is a great way to increase your database as well!
Simple Ticketing & Events – Promote your beautifully designed event pages. Whether you sell tickets or provide free attendance, you can create and manage your events from a simple-to-use interface. This is much cheaper than using an online portal, which would require you to pay them for their service and us too.
Text-to-Donate Campaigns – Easily build and launch customizable SMS campaigns. Text-to-donate allows your donors to give from anywhere, whether they're at your events or on the go! You can incorporate text-to-donate in your next fundraising campaign within minutes. (additional fees apply)
Perks for your Crowdfunding Campaigns – You can give your donors rewards for donations just like Kickstarter, Indiegogo, and Seed&Spark. This means you don't need to use their platforms. You will pay less and have tax deductions for your donors. You can do anything those other crowdfunding platforms can do and more!
Integrated Donor Research – WeDidIt Insights provides qualitative donor research. Our platform automatically researches every one of your donors who gives through the platform. It can help you uncover a donor's bio, job title, company, social media presence, and much more. This is a wonderful way to find which of your donors could become a major donor!
Donors Can Cover Credit Card Fees
There will be a 3% service fee from WeDidIt for use of this platform.
Credit card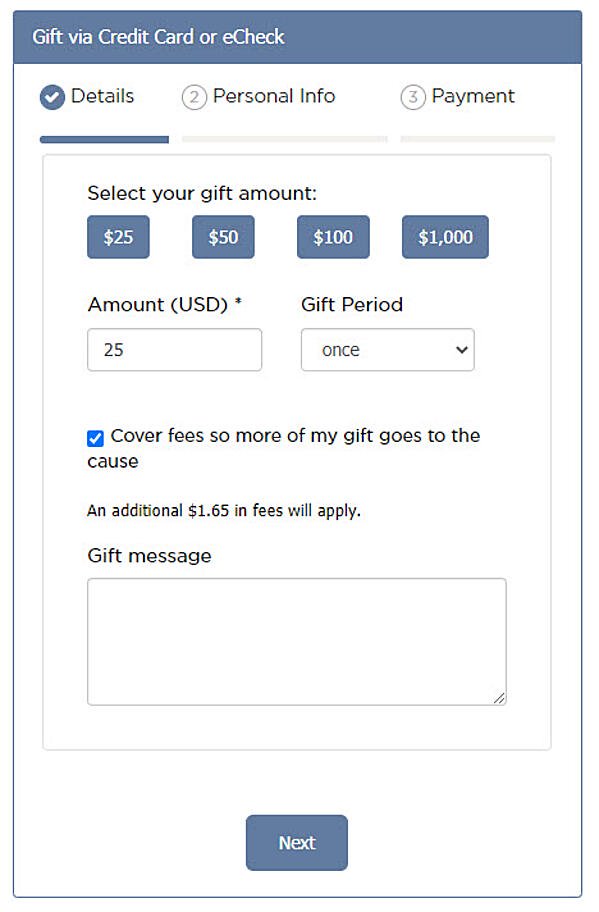 fees will be 3% per transaction.
WeDidIt gives donors the opportunity to cover the credit card fees.
The "cover the fees" feature in the WeDidIt platform is enabled by default for all donors.
Up to 85% of donors cover the fees, when enabled by default
By enabling this feature by default, there will be no impact on your donors' donation experience. In fact, it reduces the 1 click from the sequence of events that leads to a successful donation.
Your donor will be able to see the additional cost added to their donation as a result of covering the fees. But if they're not feeling generous, they can easily disable the checkbox and proceed with making a slightly smaller donation.
Note: WeDidIt does not collect From the Heart Productions Fiscal Sponsorship fees from the donor. WeDidIt collects the fees for the credit card and their charges. They pay us the balance. We remove our 5% fee and then send you the balance.
Learn More – Webinar for Our Fiscally Sponsored Filmmakers
The staff at WeDidIt put together a webinar showing all of the outstanding features on the platform. Click on link below to check it out!
Learn More – Interview with Bill Tiedeman of WeDidIt
WeDidIt makes it easy to acquire new observers, turn observers into supporters, and turn supporters into advocates.
Bill Tiedeman is an account executive at Allegiance Fundraising, the owner of WeDidit. He joined Carole Dean on her
The Art of Film Funding Podcast
to discuss the features of the platform and how fundraisers can take advantage of them.
How to Take Advantage of This New Film Funding Platform
This opportunity is only available to our fiscally sponsored filmmakers. Click here to learn more about our fiscally sponsorship program that has helped filmmakers raise $30 million dollars for their films.
If you are one of our fiscally sponsored filmmakers and are interested in using this brilliant platform, please email request to info@fromtheheartproductions.com
You will be sent all the information on creating your page. (Do not go on WDI directly.)
Questions?
Email us at info@fromtheheartproductions.com or call us at 805-984-0098
About WeDidIt
WeDidIt is helping nonprofits raise more money and reach new donors. With their donor intelligence and fundraising platforms, they've helped nonprofits like the Georgia Aquarium, the L.A. Mission, the Los Angeles Zoo, and hundreds of other organizations fund their missions.