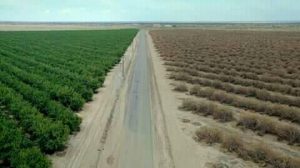 It is February 19, 2018, and California is facing another drought year.
National Georgarphic, documentary god Alex Gibney, and director Marina Zenovich have produced an incendiary film about water in California. They tell the story about how the influence of private enterprise became nearly paramount in the development of the state's water management.
Water & Power starts in Tulare County, a small town called East Porterville which has no drinkable water because there is not enough ground water or aquifers to supply it. The water has gone to agriculture. The story expands to Kern County, a company called Paramount Farms, and its owner, Stewart Resnick.
This story of private enterprise having so much influence in California's water management policies—to the detriment of its people—is nefarious enough. Trumping that reprehensible ambition is the long-term business strategy of expanding food crop and tree agriculture to its maximum, not just for those profits, but for the long-term rights for access to the massive amount of water associated with the massive amount of land. Water as a commodity rather than a public resource, and the human rights to that resource.
The California story's end provides cold comfort—structural changes to bring justice to the state's water management are agreed upon and signed. But, they are not to be fully implemented for 20 years.
The film concludes with the following text:
"Over one million California residents are currently without access to clean, drinkable water. In less than ten years, two-thirds of the world's population could be living under water-stressed conditions. 1.8 billion people could face absolute water scarcity."
The film's website provides several 'extras' to be viewed directly from its homepage.
Water and Power is distributed by Netflix and YouTube.