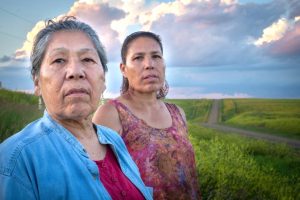 "This country is built on the bones of our ancestors. We have our culture, we have our way of life, our language. What we're trying to do is retain it, retain our right as a people—to be Indian. We want to be what we are, not what you are."
Madonna Thunder Hawk
Directed by Elizabeth Castle and Christina D. King, Warrior Women is a documentary film that is one of several initiatives of the Warrior Women Project, an innovative collaboration of scholarship, media, and activism that provides a forum for the Warrior Women of the Red Power Movement. They are telling their stories in their own words for the benefit of current and future generations.
The principal characters are Madonna Thunder Hawk and her daughter Marcella (Marcy) Gilbert. Although the story of Native Americans is one of tragedy and horror, mother and daughter tell their stories to groups of children, fostering them with joy and humor to become part of the reclamation of their rights and cultures.
The film also includes references and coverage of struggles including Ruby Ridge, Standing Rock, Wounded Knee, and the attempts to reclaim what is currently called Alcatraz Island—an initiative that continues to this day.
Warrior Women has received 44 film festival 'Official Selection' notices and 14 festival 'Winner' acknowledgements.
'Warrior Women' Featured Perspectives
(Photos Courtesy of 'Warrior Women': Marcella (Marcy) Gilbert and Madonna Thunder Hawk)