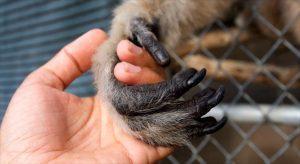 Of the 20 gibbon species, 19 are endangered, critically endangered, or near extinction.
Directed by Alex M. Azmi, Violet Is Blue introduces gibbons and the people of the Gibbon Conservation Center in Santa Clarita, California. The 'GCC' was created and run by Alan Richard Mootnick (1951-2011). Mootnick's tragic, untimely passing was preventable, but his passions kept him at his center, and away from doctors. This thriving conservation center is his noble legacy.
Azmi tells GCC's story from beginnings through film's production in 2019. The documentary is hosted by staff, Board President Chris Roderick, and GCC Director Gabriella (Gabi) Skollar.
Our interviewees describe the center's raison d'être, and, especially, talk about the gibbons one of whom, Violet, is the star of the show. In addition to the film's well done soundtrack, we are entertained by the rich vocalizations of our heroes, the gibbons—and fascinated by a couple of mystic events.
Violet Is Blue is immediately engaging, and makes a powerful, emotional statement about protecting our natural world, and about those who are providing this protection.
Coda: I've attempted to cover a variety of subjects in my choice of documentary films to view and review—including, of course, the subject of our natural world.
You may have already noted I am covering more such documentaries for obvious reasons—our natural world is under a massive attack from numerous destructive human activities.
I feel like 'the little drummer boy' of the Christmas carol. I cannot make any kind of significant gesture to alleviate this attack. However, my drum is all these films I share with you.