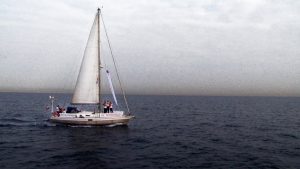 Produced, directed, and shot by Diana Whitten, and released on DVD by Kino Lorber, Vessel tells of the birth and development of Women on Waves, an international organization based in The Netherlands, and founded by Rebecca Gomperts, MD, MPP, PhD. Gomperts also founded a sister organization, Women on Web.
Women on Waves derived its name from the first initiative—a ship and staff that support women from countries where abortion is illegal by providing them with access to safe and legal abortion. The basic idea was to provide services in international waters.
Whitten follows the organization for about ten years beginning with their first voyage from The Netherlands to Ireland. We accompany the staff on several odysseys around the world. Vessel covers the inevitable trials and tribulations along with the organization's hard-fought victories. The passionate resistance to the organization's activism, as well as how Gomperts and staff learned from and adjusted to public and governmental barriers are well covered.
The raw fact of life is that women's right choose is the subject of immeasurably powerful human passions. Vessel—the film and the organizations it covers—courageously addresses those passions.