It's automatic. I walk in the doctor's office, look around for issues of The New Yorker magazine, make sure I've not viewed them before at some other office, and proceed to read each and every cartoon.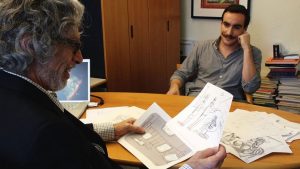 After decades of my clichéd reading behavior, I found this gem by first-time feature director Leah Wolchok on HBO.
Very Semi-Serious pulls back the curtain hiding the magic that goes into the weekly volleys of satirical single-panel (mostly) cartoons peppered throughout this standard-bearing magazine. Wolchok interviews 13 cartoonists including editor Bob Mankoff who, righteously, gets the most screen time.
This is a documentary that's fun and fascinatin'. As you may see from its website, Very Semi-Serious has been well-reviewed by a handful of prestigious national publications. However, I couldn't find the list of cartoonists featured in the film from that website. However, again, I found the list of names by searching—and here it is. Links to each of the artists' work are included.
Here' the Facebook Page.