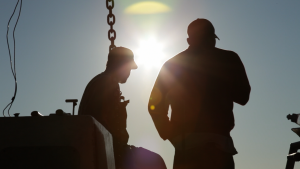 Written, produced, and directed by Nailah Jefferson, the double entendre-titled Vanishing Pearls covers the impacts on a small town on the Louisiana coast devastated by the massive BP oil spill in the Gulf of Mexico.
Pointe a la Hache is a community of African American oystermen beset by decades of racism and economic repression. But, they created livelihoods for their families by oyster fishing.
The documentary chronicles the tepid, heartless responses by BP to the environmental damage the spill caused, as well as the economic devastation to this community. Although Jefferson weaves this story with plenty of information about the spill and the response, it is the human tragedy she reveals that leaves the viewer haunted by these victims who struggled mightily to rise above their victimhood and sought both economic and environmental justice.
Vanishing Pearls is distributed by African-American Film Festival Releasing Movement.