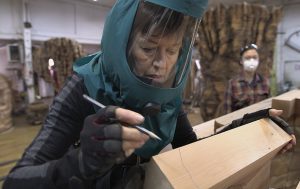 Directed and shot by Daniel Traub, with music by Simon Taufique, Ursula von Rydingsvard: Into Her Own introduces the artist, her life's path, and her sensational work—all in under an hour.
The film's website describes von Rydingsvard as one of the few women in the world working in 'monumental sculpture'—a new-to-me term. Being an amateur philistine, I am not able to describe her work in any other terms than what I was able to glean from the numerous film clips and photographs presented in the film.
Von Rydingsvard creates with a dizzying variety of media, in a variety of sizes—including very large pieces (the above mentioned monumental sculptures) which have been permanently installed in public places. Three of the media used in the large pieces are: 4-inch by 4-inch blocks of cedar wood, or copper, or bronze.
Her personal story is daunting. She was born in Poland during WWII, her family was forced to work for Nazis. She was raised in a displaced persons camp, and arrived in the United States with her nine-person family. Her father was angry, abusive, and punishing. Her husband was also abusive, and diagnosed with schizophrenia. She escaped her marriage with her daughter, and moved to New York in the seventies to devote herself to art full time—and the rest is art history.
An Icarus Films release Ursula von Rydingsvard: Into Her Own is a thoroughly engaging, sensational film about a massively talented artist.
Note: I am so impressed with the work of director Daniel Traub, and composer Simon Taufique, that I have provided the above links to their websites.