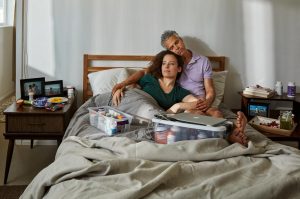 As documentary films go, it doesn't get more powerful than this. A young woman—healthy, happy, intelligent, talented, Hollywood beautiful, married to a loving man, living an adventurous, exciting life—is struck down by a debilitating, apparently incurable disease.
This young woman fights back.
The disease is called myalgic encephalomyelitis (ME) or chronic fatigue syndrome (CFS). Medicine denied or ignored this disease, thus adding immeasurable suffering and loss for its victims and their families. From the film's website we learn that, "It is estimated that at least 1,000,000 Americans, 250,000 British people, 100,000 Australians, and 400,000 Canadians have ME. An estimated 75-85% of them are women and 80-90% of them are un-diagnosed. (*Estimates vary depending on the diagnostic criteria used.)"
In "Unrest", filmmaker Jennifer Brea tells her own story, and that of many others. Medicine's initial response to this spectrum-based disorder was to flatly deny its existence, blaming its presentation on victims' psyches. Some doctors still do. The lethal impact of this tragic, misguided belief is a paucity of care and research. Medicine's denials reveal an arrogant, God-like attitude. "If I can't diagnose this disease, it doesn't exist."
Brea tried almost every possible remedy she could find. Through the miasma of all these treatments and her ongoing symptoms, she survived, fought back, and became a powerful advocate for both patients and those medical professionals who seek funding for research.
"Unrest" is a film not to be missed. It is haunting, infuriating, and inspiring. It has already garnered much praise, and will be released in theaters in the fall of 2017.
Coda: I was surprised at one missing piece, a pharmaceutical called Low Dose Naltrexone (LDN), which has been shown to be effective in the treatment of many autoimmune diseases, including ME/CFS. It is by pure serendipity that I learned of LDN. I met author Julia Schopick on Facebook, and soon learned about her book, Honest Medicine which features LDN as one of four low-cost, low-side-effects treatments for serious diseases.
I was immediately struck by information Julia shared about patients' successes using LDN. The two of us are now partners in writing a book exclusively about LDN. It will contain several LDN success stories, one from a woman with ME/CFS who asserts that, of all the medications and supplements she has taken over the years, only LDN has consistently helped her fatigue and mobility.
Although not yet widely known or recognized by contemporary medicine, LDN's emergence in the treatment of autoimmune disorders is a people's movement.
There are nearly twenty Facebook groups devoted to LDN; two are devoted to ME/CFS:
I hope that patients with this debilitating disease will learn about LDN. It doesn't work for all ME/CFS patients, but then, no single treatment works for everyone suffering from a particular illness. However, many people have experienced excellent results.
Here are links for the two aforementioned Facebook groups:
LDN/LOW DOSE NALTREXONE ME/CFS MYALGIC ENCEPHALOMYELITIS/CHRONIC FATIGUE   -with over 1,600 members
Low dose Naltrexone (LDN) for Fibromyalgia and (CFS) Fatigue  -with over 8,600 members.