Unlikely Friends focuses on a few victims of violent crime who have developed strong friendship bonds with their perpetrators.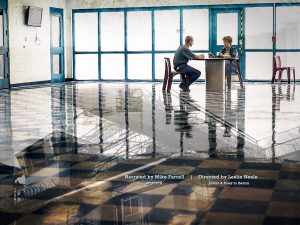 The adjective, 'unlikely,' is an understatement. The reason why victims form these bonds is debatable.
The immeasurable value of victims and perpetrators bonding, however, is clearly revealed in writer/producer/director Leslie Neale's powerful documentary.
With narration by Mike Ferrell, and interviews with prisoners and those they've harmed, Unlikely Friends addresses issues both emotionally intimate as well as salient to American public policy—issues of psychological health, issues of justice, ethics, and issues of economy, given the massive number of Americans unjustly incarcerated.
Very few films make an indelible impact. Unlikely Friends is one of them. It struck me on two fronts. One is the emotional. The parties involved speak frankly about their behavior and experience, about the processes that brought them together. They tell their stories, and express their feelings of loss. They make it abundantly clear that despite how mystifying it may be to us, they have found great value in these relationships.
The second front is justice—American style. That style is revenge and punishment which is not justice. And now, that style also includes what is accurately-referenced as 'the prison industrial complex.' Funds tragically wasted on punishment and revenge; funds that could and should be used in support of the health, welfare, and education of our children which, in turn, would significantly reduce crime and violence.
Unlikely Friends also addresses the nature of the human character and psyche. Once violent, always violent? Can we change—not just are behavior, but our psyche, our character, our heart? Can we radically transform our being? The film answers those questions in the affirmative, and that conclusion impacts our treatment of perpetrators and their victims.
Because it addresses public policy so powerfully, Unlikely Friends should be seen by every elected official in the United States, at every level of government.
The Unlikely Friends website is integral to the film it represents. For a tremendous amount of follow-up information and resources click on About the Film. Then click on Our Partners and Resources.
Kudos to Leslie Neale for including subtitles in her film. The vast majority of documentary films that make it to my eyes have neither subtitles nor closed captioning.