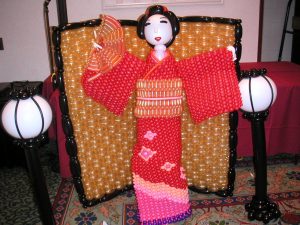 When viewing documentary films on a regular basis, one must include whimsy and lightness—for one's mental and spiritual health.
When I discovered Sara Taksler's and Naomi Greenfield's TWISTED: A Balloonamentary I took my own advice and consumed it immediately.
Although the film's topic is whimsical, the countless people around the world who twist balloons to create various and sundry objet d'art for fun and profit are as passionate about their work as they are fascinating—with a soupçon of bewildering.
The film's stage is the profession's most prestigious convention called Twist and Shout—one of many such conventions peppered around the Earth. Taksler and Greenfield feature a handful of twisters who share their passions and stories. I noted one twister who makes Christian-related pieces contrasted with another who features adult-oriented balloon art.
The film features people who:
• Twist
• Teach twisting, teach how to teach twisting to twisters and non-twisters, and/or teach how to make a living twisting
• Publish books and related material
• Design and market balloon twisting kits
(I know. The secret is out. The Universe is made of balloons.)
Presiding over all is a 'Balloon God' by the name of Marvin L. Hardy who waxes poetic when he recites:
Yes, tis just a tube of latex filled with air, 
yet filled with every possibility,
It has no limit but man's imagination,
It can become whatever the mind can see.
The countless pieces of balloon art seen in the film fully endorse Mr. Hardy's verse.
TWISTED is pure fun and fascination—yet, BTW, is not without serious drama. If I was a Hollywood mogul I would greenlight a Christopher Guest-style movie set in this twisted world.
You can find TWISTED here—on the right side of the screen.