"Trumble," I heard Bette say when I asked if she had any new documentaries. As of this writing Bette is the owner of Larkspur's Bette's Flicks, one of an extremely rare species of brick-and-mortar video stores.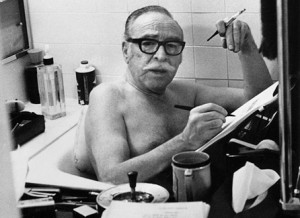 "Wasn't he the guy who did the special effects for '2001'?" I queried, excited to see such a film. "No," she said, "Trumbo – t r u m b o. He was that Hollywood writer who got blacklisted." 'Oh,' I thought, 'I'm going to take another tour of this dark chapter of American history.'
I was wrong. I'd never really taken a 'tour' of The Blacklist. I'd simply seen and heard snippets about it, and I saw that rare Woody Allen film not directed by Woody Allen, The Front, wherein our comedic hero plays the serious role of someone 'fronting' for a Blacklisted Hollywood writer. I simply did not have a sense of this decades-long American Inquisition of free thought and free speech until experiencing it through the life and thought of one of its victims, Dalton Trumbo.
Trumbo is written by Christopher Trumbo – Dalton's son – and is based upon his play, Trumbo: Red, White and Blacklisted. Director Peter Askin utilizes archival footage, contemporary interviews, and distinguished actors performing Trumbo's letters, on-screen, to tell the story of this prolific, successful, genius writer, an American patriot, a veteran, a loving family man who stood up to the Inquisition and paid almost the full price for doing so.
I say 'almost' because I learned from this documentary that several of the Blacklisted writers committed suicide. Dalton Trumbo and his family endured years of loss and oppression. He was one of two writers who were imprisoned for practicing their freedom of thought. He emerged from The Blacklist triumphant with the 1960's Exodus and Spartacus bearing his name in the writing credits.
After viewing Trumbo a couple of times I realized there is a connection between this seemingly 'irrelevant' subject and my 'relevant' concern for our ecosphere. Our American government and society, via The Blacklist in the 1950s, squelched the freedoms and democracy it was supposed to nourish and protect, just as the countless scientists who have been warning of environmental catastrophe for more than 60 years have had their work and words distorted, buried, attacked and ignored.
In any case, Trumbo, in addition to its cautionary, if not horrific, tale, is a powerful film about a powerful man who confronts a powerful challenge.
It will take some investment of time and energy to find this film, but it will be well worth it.